Waiting on Wednesday is a weekly event that is hosted by Ji
ll at

Breaking the Spine

a

nd spotlights upcoming releases that we're eagerly anticipating.
Jocelyn's Waiting On:

The Bombs That Brought Us Together: Brian Conaghan
Publication Date: April 7th, 2016


Synopsis:
Fourteen-year-old Hamish Law has lived in Little Town, on the border with Old Country, all his life. He knows the rules: no going out after dark; no drinking; no litter; no fighting. You don't want to get on the wrong side of the people who run Little Town. When he meets Pavel Duda, a refugee from Old Country, the rules start to get broken. Then the bombs come, and the soldiers from Old Country, and Little Town changes for ever.
Sometimes, to keep the people you love safe, you have to do bad things. As Little Town's rules crumble, Hamish is sucked into a dangerous game. There's a gun, and a bad man, and his closest friend, and his dearest enemy.
Hamish Law wants to keep everyone happy, even if it kills him. And maybe it will ... But he's got to kill someone else first.
I can honestly say that I don't think I've ever read a book similar to the description of this book. I'm not even 100% sure what it's about it. But if it's one thing I love - it's going into a book blind, which besides this small description is what I'll be doing with The Bombs That Brought Us Together.
Lady Midnight (The Dark Artifices #1) by Cassandra Clare
Publication Date: March 8, 2016
Synopsis: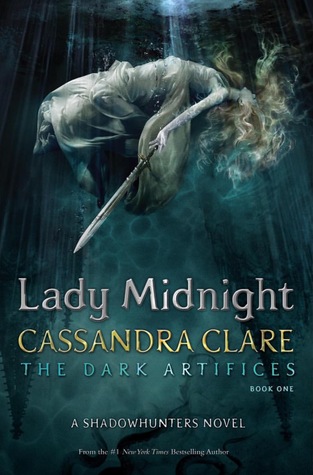 Raised in the Los Angeles Institute with the Blackthorn family, Emma Carstairs is paired as a parabatai with her best friend, Julian Blackthorn. A series of murders in the city catch her attention — they seem to have the same characteristics as the deaths of her parents. Could the murderer be the same person? And her attention isn't the only one caught: someone has been murdering Downworlders as well. The Fair Folk make a deal with the Institute: if the Blackthorns and Emma will investigate the killings, they'll return Mark Blackthorn to his home. The catch: they have only two weeks to find the killers. Otherwise it's open war between faeries and Nephilim.

The Shadowhunters of the Institute must race against time to catch the killers, even as they begin to suspect the involvement of those closest to them. At the same time, Emma is falling in love with the one person in the world she's absolutely forbidden by Shadowhunter Law to love. Set against the glittering backdrop of present-day Los Angeles, Emma must learn to trust her head and her heart as she investigates a demonic plot that stretches from the warlock-run nightclubs of the Sunset Strip to the enchanted sea that pounds the beaches of Santa Monica.
Okay, I think everyone is pretty much excited about this book haha. But I have been waiting for this novel ever since the last novel in TMI came out. I will never get enough of the Shadowhunter world, and can't wait to read Emma and Julian's story. I can say with almost 100% certainty that this will be one of my favorites of 2016, and I can't wait to get my hands on it!