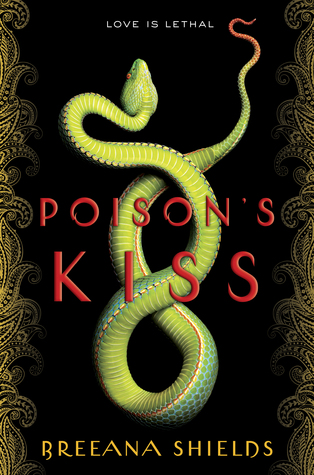 About the Book:
Title: Poison's Kiss (Poison's Kiss #1)
Author: Breeana Shields
Pub. Date: January 10, 2017
Publisher: Random House Books for Young Readers
Pages: 304
Rating: 3/5 stars
Marinda has kissed dozens of boys. They all die afterward. It's a miserable life, but being a visha kanya, a poison maiden, is what she was created to do. Marinda serves the Raja by dispatching his enemies with only her lips as a weapon.

Until now, the men she was ordered to kiss have been strangers, enemies of the kingdom. Then she receives orders to kiss Deven, a boy she knows too well to be convinced he needs to die. She begins to question who she s really working for. And that is a thread that, once pulled, will unravel more than she can afford to lose.

This rich, surprising, and accessible debut is based in Indian folklore and delivers a story that will keep readers on the edge of their seats.
I went back and forth about what to give this book because on one hand, I really enjoyed it, but on the other...well it fell flat for me in multiple places. I don't exactly know what I was expecting when I picked up this book, but unfortunately it wasn't everything I wanted it to be. This book was the ultimate love/hate relationship for me. There were some truly exciting parts but there were also parts that were just a bit boring to read. I will say that this book is definitely something new and different, and that was something I appreciated.
The concept of this story is fantastic and not something you see everyday! I was excited to see how the author would incorporate this type of supernatural being into the story and see how exactly it played into the plot. I mean, it's not everyday that you have your lead character be able to kill with a single kiss! Unfortunately, this was also where the book fell flat. The plot was
boring
. It was too simple, which is something that shouldn't be a bad thing but was in this book. There was nothing special to me that kept me intrigued while reading. However, when it got to the end, things became interesting and there were some great plot twists! It did make me excited to read the next book because I want to see where Ms. Shields takes the story now that things are finally on a roll.
The other part of the story that I had a love/hate relationship with was the characters. I really liked our main character, Marinda. She was a strong, fierce lead that you connected with instantly. She's forced to be participating in a life she doesn't want. However, Marinda kills with a kiss only to save her brother, Mani. And when she comes to find out that her entire life has been a lie...well let's just say things certainly get interesting. There's a fire to her that we hadn't seen previously, and I loved everything about it. She was the main thing that kept me reading. All the other characters though were dull and flat. They didn't have that same spark and I just felt something was missing with them. Deven, our love interest, while not terrible, wasn't anything exciting. I didn't feel the love between them and I never got attached to him like I do with my usual book boyfriends. Ultimately, you don't love him, you don't hate him...he's just there.
Overall, this was an okay start to a new duology, but it just fell flat. With a little fine-tuning this could have been an excellent book. I am interested to see where the story goes only because of the ending, and the ending (in my opinion at least) makes it worth the read. I think that because things had to be set up so much, the next story will be very action-packed and fast-paced!