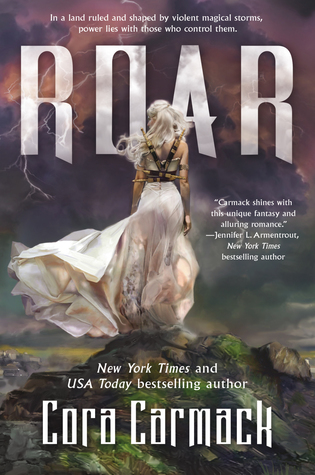 About the Book:
Title: Roar (Stormheart #1)
Author: Cora Carmack
Pub. Date: June 13, 2017
Publisher: Tor Teen
Pages: 380
Rating: 4/5 stars
In a land ruled and shaped by violent magical storms, power lies with those who control them.
Aurora Pavan comes from one of the oldest Stormling families in existence. Long ago, the ungifted pledged fealty and service to her family in exchange for safe haven, and a kingdom was carved out from the wildlands and sustained by magic capable of repelling the world's deadliest foes. As the sole heir of Pavan, Aurora's been groomed to be the perfect queen. She's intelligent and brave and honorable. But she's yet to show any trace of the magic she'll need to protect her people.
To keep her secret and save her crown, Aurora's mother arranges for her to marry a dark and brooding Stormling prince from another kingdom. At first, the prince seems like the perfect solution to all her problems. He'll guarantee her spot as the next queen and be the champion her people need to remain safe. But the more secrets Aurora uncovers about him, the more a future with him frightens her. When she dons a disguise and sneaks out of the palace one night to spy on him, she stumbles upon a black market dealing in the very thing she lacks—storm magic. And the people selling it? They're not Stormlings. They're storm hunters.
Legend says that her ancestors first gained their magic by facing a storm and stealing part of its essence. And when a handsome young storm hunter reveals he was born without magic, but possesses it now, Aurora realizes there's a third option for her future besides ruin or marriage.
She might not have magic now, but she can steal it if she's brave enough.
Challenge a tempest. Survive it. And you become its master.
"You are lightning made flesh. Colder than falling snow. Unstoppable as the desert sands riding the wind."
I knew I had to check this story out when I saw Cora Carmack's name attached. She's a fantastic author and I was excited to see her bridge into new territory with YA fantasy. And let me tell you, she did an excellent job!! I was almost immediately sucked into the story and the world that Ms. Carmack created and by the end, I was itching to read more. Honestly, it's been awhile since I have wanted a sequel as badly as I want the sequel to this story. This is a definite must read for all Cora Carmack fans and YA fantasy fans alike, as you will be pleasantly surprised at how much you will get sucked into the book!
"And I am here with you. If you have questions, ask them. If you have fears, shed them. If you have doubts, give them to me and I will crush them beneath my heel. If you need help, I will provide it. Even if you only need someone to yell at, I can be that too. And when the time comes that you need someone to trust, I will be that person. I promise."
I won't lie...I was a little hesitant to pick this one up (despite the promising and intriguing synopsis) because it sounded very much like every other YA fantasy book out there. Beautiful white female lead that is trapped in a place she doesn't want to be. Yeah, I'm getting a little tired of it. But where this book succeeds is that it shows almost right away how it will be different. There's a big twist at the start of the book that takes this book in a whole new direction than you originally thought!! And this was extremely refreshing to read and made me really want to delve into the story more. It made me stay hooked.
"Sometimes she was Aurora. Confident. Clever. Cultured.
Sometimes she was Rora. Afraid. Alone. Ashamed.
And more and more, she was Roar -- bold, brash, and increasingly baffled by the situation in which she found herself. And sometimes she was none of them, lost and adrift somewhere in between, like the wildlands between Stormling cities."
Aurora (aka Roar), who doesn't have the magic that is desperately needed to aid her kingdom, fights back in the only way she knows how...by learning as much as she can about the storms by observing and studying. She learns how to defend herself since she doesn't have magic to protect her. But when she learns of a way that she can obtain magic on her own, she makes a decision to embark on a journey that will help her accomplish her goal. Throughout the book, I liked how she was a little weak and a little strong at the same time. I think many readers will be able to relate to this aspect of Roar's personality and it made me like her that much more. She is a very fierce heroine, and I loved her feisty attitude and how she held her own. Roar proved that she was meant to be with the team of Storm hunters.
"She had hoped. And hope broke more hearts than any man ever could."
There's obviously romance (because...Cora Carmack!), but what I loved is that 1) it didn't overshadow the story at hand. It felt like a very natural element to the story. 2) It wasn't rushed. The feelings that developed between Roar and Locke happened somewhat gradually over the course of the story. 3) There was NO (I repeat NO) love triangle!!! This was the element I was worried most about when beginning this story because I thought for sure there was going to be a love triangle and then I was ultimately going to hate the book. But nope, Cora Carmack did it right and just made the romance feature Roar and Locke and I was here for it! Their chemistry is undeniable, and I loved how they bickered/argued throughout the story. There was always some sort of spark between them and it was clear they had a connection.
"If she were a storm, she could destroy him, and he would never lift a finger to protect himself."
One thing though that I adored more so than anything else in this book was the world building. This was a very new world to be in and because of that I read a little slower at the beginning to truly understand everything that went into the Storms and the Stormlings. The whole idea is extremely original and creative, and honestly it was incredibly intriguing that I couldn't get enough! I quickly became fascinated over the fact that certain lineages could control certain types of storms better and the whole idea of storms having "hearts" or being sentient. How can you not be excited over that?! Although the book is a little slow in the beginning because of the explanations, I didn't mind it at all.
The other characters in this book give a nice diversity to the story and were extremely interesting themselves. I can't wait to learn more about them and their backstories in future books!! The entire Storm hunting team seemed to fit together nicely and it made for some quite humorous moments in the book.
"Blind belief is a comfort; it is the frame that puts the rest of the world into context. It allows us to block out the things that don't make sense, that which frightens us. It narrows our vision so that the world does not feel so large. Would it comfort you to have the frame of superstition? To believe that if you say the right words and sacrifice the right things, then your world will stay exactly as it is? Or do you wish to choose what you believe, what you trust and understand?"
I highly recommend checking out this book when you get the chance as it will quickly become a favorite! The ending is a bit cliffhanger-y but not in the typical way...it's more that you just desperately want to see what will happen next. I am excited to see where Ms. Carmack takes this series and what she has in store for us in the sequel!!