About the Book: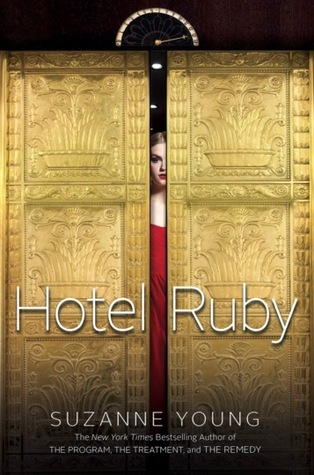 Title: Hotel Ruby
Author: Suzanne Young
Pub. Date: November 3, 2015
Publisher: Simon Pulse
Pages: 288
Genre: Young Adult, Mystery, Horror
Rating: 3/5 stars
Stay tonight. Stay forever.

When Audrey Casella arrives for an unplanned stay at the grand Hotel Ruby, she's grateful for the detour. Just months after their mother's death, Audrey and her brother, Daniel, are on their way to live with their grandmother, dumped on the doorstep of a DNA-matched stranger because their father is drowning in his grief.

Audrey and her family only plan to stay the night, but life in the Ruby can be intoxicating, extending their stay as it provides endless distractions—including handsome guest Elias Lange, who sends Audrey's pulse racing. However, the hotel proves to be as strange as it is beautiful. Nightly fancy affairs in the ballroom are invitation only, and Audrey seems to be the one guest who doesn't have an invite. Instead, she joins the hotel staff on the rooftop, catching whispers about the hotel's dark past.

The more Audrey learns about the new people she's met, the more her curiosity grows. She's torn in different directions—the pull of her past with its overwhelming loss, the promise of a future that holds little joy, and an in-between life in a place that is so much more than it seems…

Welcome to the Ruby.
I was very intrigued by the premise of this novel. I read a book with a similar theme as this awhile ago and absolutely hated it. I thought the book was a mess and way too long. However, I wanted to give this book a shot because I was hoping it would be better. While it was definitely better than that previous book, I wasn't totally in love with this story either. There is a lot that needed work, but overall it was a decent (kind of) spooky story. I definitely wouldn't classify this as scary or horror, however to some it might be. But in my personal experience, this would not fall into either category.

The story/plot itself was interesting, but it was very predictable. I figured out the "twist" long before it was revealed, and I will admit that the story became a bit tedious after awhile. The pacing for the first 80% of this story was pretty slow, but the last 20% did pick up quite a bit, and honestly this was my favorite part of the entire book (even though I did figure everything out beforehand). There were definitely some good twists throughout the story that I didn't see coming, but the ultimate twist was much too predictable, and it left me feeling at a loss since I was hoping that there would be a bit more to it.

My ultimate problem with this novel was in the characters. There were times I liked them, and then there were times I didn't. By the end, I was almost indifferent to what would happen. This was due to the fact that I felt they weren't developed enough throughout the story, even though there was ample opportunity to do so. It surprised me because Suzanne Young's writing in regards to other areas of the story was flawless, and I kept waiting for some of that skill to show up in her characters. But it never came. For the majority of the book I couldn't really stand Audrey that much. I found her annoying and very very naive. Nevertheless, toward the end of the book, I started liking her a bit more because she finally showed more emotion and a bit of growth. One thing that bothered me a lot is the fact that I had no clue how she acted prior to her mother's death. I had nothing to compare her current behavior to, and her past in general was extremely vague. I just found myself wanting more. Elias was okay as the "love interest" but he wasn't anything spectacular to me. Again, this was because I felt as if I didn't know him at all. Even at the end, I still had no feelings toward him. There's also the whole insta-love thing between Elias and Audrey which I couldn't stand at all (anyone who knows me knows just how much I hate insta-love).

I know it seems like I absolutely hated this book, but I didn't. I never wanted to DNF it because I was interested in seeing how everything would end. The one aspect of this book that I did enjoy a great deal was the "character" of the Hotel Ruby, and the setting/atmosphere of the novel. The hotel is foreboding, and I loved how Suzanne Young weaved the haunting atmosphere into the story. She did this effortlessly, and it was something that kept me enthralled with the story. Ms. Young made the hotel alive, and you could almost feel the history of the hotel seeping off the pages of the book.

While this novel wasn't my favorite book, it wasn't a terrible book by any means. There were many areas that could have used some improvement, and I expected a bit more. Ultimately, I think it's up to you whether or not you want to read this one or skip it. This will be a great story for some, and terrible for others. For me, I'm in the middle of the road, not totally hating it, but not totally loving it either.


Happy reading :)
~Cassie