About the Book: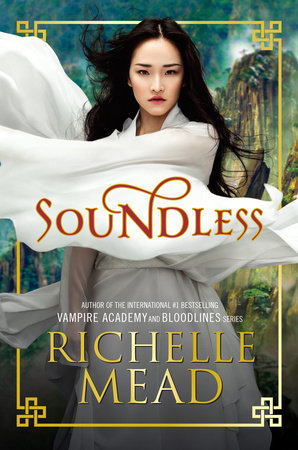 T
itle: Soundless
Author: Richelle Mead
Pub. Date: November 10, 2015
Publisher: Razorbill
Pages: 272
Rating: 2.5/5 stars
In a village without sound…
For as long as Fei can remember, no one in her village has been able to hear. Rocky terrain and frequent avalanches make it impossible to leave the village, so Fei and her people are at the mercy of a zipline that carries food up the treacherous cliffs from Beiguo, a mysterious faraway kingdom.
When villagers begin to lose their sight, deliveries from the zipline shrink. Many go hungry. Fei and all the people she loves are plunged into crisis, with nothing to look forward to but darkness and starvation.
One girl hears a call to action…
Until one night, Fei is awoken by a searing noise. Sound becomes her weapon.
She sets out to uncover what's happened to her and to fight the dangers threatening her village. A handsome miner with a revolutionary spirit accompanies Fei on her quest, bringing with him new risks and the possibility of romance. They embark on a majestic journey from the peak of their jagged mountain village to the valley of Beiguo, where a startling truth will change their lives forever…
And unlocks a power that will save her people.
Review:
After reading all of the negative reviews about this book from Richelle Mead (who is one of my favorite authors), plus the extremely low rating on Goodreads...well I knew this was ultimately going to be one of those hit or miss books. Unfortunately, it was a miss. While this book isn't particularly terrible, it's also not particularly good either. And most importantly, it is definitely not what a reader would expect from this author. This point might actually be the most heartbreaking part of this book in general. I tried so hard to love this book, but I just couldn't get over certain aspects of the story.
There were some good parts of this book, and I think it's extremely important to point this out. The writing style is amazing. Richelle Mead is a very gifted author, one who knows how to write an amazing story. However, even Richelle Mead couldn't save a story with an extremely dull plot line. Additionally, the story is extremely unique and offered a different twist on Chinese folklore. I really enjoyed the uniqueness of the plot because it was refreshing to read. I thought it was creative and if the plot would have been fleshed out more, this book would have been phenomenal. Honestly, I probably would have DNF'd it if it weren't for my interest in finding out why the entire village was deaf and Fei was the only one who suddenly acquired the ability to hear. The last good part...this book is a standalone, which is a relief in more ways than one.
The main character, Fei, was likable enough, but she never kept my interest. I never felt like I actually knew her during the story, nor did I feel like I could relate to her in any way. I just never found myself actually caring about whether or not she would save the day. The plot was also extremely underdeveloped. It seemed like no one really cared why the entire village was deaf, or why there were only 3 jobs: miner, artist, and suppliers. I wanted to know all about the world they were in, and instead I received minor details and basically no world building. I also don't really know how the story incorporated Chinese folklore besides the character's names. Yes, there were elements of Chinese folklore (I'm definitely no expert, so maybe aspects of the story I was thinking were Chinese really weren't), but I expected much, much more.
Finally, throughout the story, the character's sign as they're deaf. This wasn't a problem at all, but the way it was written was. Honestly, to me it seemed like they were communicating through mind-reading because that was the way it was written. Granted, I don't know how it should have been written, but the way Ms. Mead wrote the "speaking" scenes just didn't jive with me. In addition to this, I was expecting a bit more description of the characters' other senses. Again, I am certainly no expert in this, but when a person loses one sense, the other senses become heightened. But there was no evidence of this in the story.
I really don't know if I would recommend this book because this author has written much better novels than this. Again, while this book wasn't terrible, it wasn't my cup of tea. I didn't hate it by any means, and it was a very quick read. I am hoping that Richelle Mead's next novel,
The Glittering Court
is better, and I have a sneaking suspicion that it will be.