About the Book: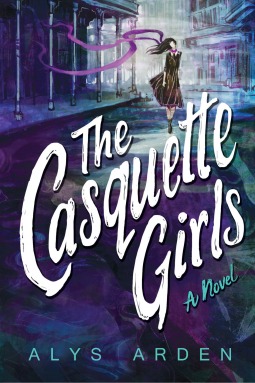 Title: The Casquette Girls (The Casquette Girls #1)
Author: Alys Arden
Pub. Date: November 17, 2015
Publisher: Skyscape
Pages: 565
Genre: Young Adult, Paranormal, Vampires, Fantasy
Rating: 4/5 stars
Seven girls tied by time.
Five powers that bind.
One curse to lock the horror away.
One attic to keep the monsters at bay.
After the storm of the century rips apart New Orleans, sixteen-year-old Adele Le Moyne wants nothing more than her now silent city to return to normal. But with home resembling a war zone, a parish-wide curfew, and mysterious new faces lurking in the abandoned French Quarter,
normal
needs a new definition.
As the city murder rate soars, Adele finds herself tangled in a web of magic that weaves back to her own ancestors. Caught in a hurricane of myths and monsters, who can she trust when everyone has a secret and keeping them can mean life or death? Unless . . . you're immortal.
Review:


This was a fantastic novel that is a must read for fans of paranormal romance/thriller! I absolutely adore any book that is set in New Orleans, and so far, I haven't been let down by a book with that setting. This book is no exception, and it proves that Alys Arden is one to watch. She created the perfect gothic tale set in the perfect city, and I loved every minute of it. The only reason I gave this 4 stars instead of 5 is due to the length. There were a couple times I felt the story dragged on a bit, and there were definitely scenes that could have been cut out. These scenes slowed down the pacing of the book immensely. If these scenes would have been edited out, I would have easily given this novel 5 stars.
In a time when witches and vampires have been over done and the concept basically run into the ground, Ms. Arden manages to breathe new life into the genre. This book has a slow build to a wonderfully fast-paced, heart-racing conclusion that will leave you guessing. Every scene is richly described, and the characters are written perfectly. I truly felt as if I knew every character in this novel, and I felt as if I was in New Orleans the entire time. I could see the drastic destruction that Adele witnessed; I could feel her every emotion. To me, this is the sign of a gifted author.
Adele was the perfect female lead. She had a sassy attitude, but is forced to become accustom to her new way of life in her storm ravaged home. The one thing I loved about her was watching her grow over the course of the novel. Ms. Arden gave her such life in this novel, and her characterization and development was perfectly written. Sure, there were times when she had me rolling my eyes at her actions, but I enjoyed the fun and spunk her character brought to the book. I will warn you now, there is a love triangle of sorts, which I normally don't love, but in this book it worked. I'll just throw this out there, but I was rooting for Isaac the entire time. I thought he was perfect for Adele, and his personality meshed very well with hers.
One aspect of this novel that was very unique was the tie to the past. Through journal entries we learn about the Casquette Girls and Adeline. I thought this was a very creative way to intertwine the events of the past to the current events going on in the story, and I was very intrigued throughout reading, trying to figure out just how everything would tie together in the end. You are basically getting two stories in one with this novel, and while this probably wouldn't work for most stories, it was perfect for this novel.
This is an excellent book that I highly recommend to all fans of the paranormal genre. The plot leaves you guessing, and there are many twists and turns that you will never see coming. I do hope though that the next book is edited down a bit more, so that the pacing isn't slowed down by unnecessary scenes. However, even with these scenes in the book, it was still a very enjoyable read that made me want to visit New Orleans even more!
I was given a copy of this book by the author
in exchange for an honest review