Waiting on Wednesday is a weekly event that is hosted by Ji
ll at

Breaking the Spine

a

nd spotlights upcoming releases that we're eagerly anticipating.
Jocelyn's Waiting On:

Genius: The Game : Leopoldo Gout
Publication Date: June 7th, 2016


Synopsis:
Trust no one. Every camera is an eye. Every microphone an ear. Find me and we can stop him together.
The Game:
Get ready for Zero Hour as 200 geniuses from around the world go head to head in a competition hand-devised by India's youngest CEO and visionary.
The Players:
Rex
- One of the best programmers/hackers in the world, this 16-year-old Mexican-American is determined to find his missing brother.
Tunde
-This14-year-old self-taught engineering genius has drawn the attention of a ruthless military warlord by single-handedly bringing electricity and internet to his small Nigerian village.
Painted Wolf
-One of China's most respected activist bloggers, this mysterious 16-year-old is being pulled into the spotlight by her father's new deal with a corrupt Chinese official.
The Stakes:
Are higher than you can imagine. Like life and death. Welcome to the revolution. And get ready to run.
This sounds extremely fun. I love books with competitions in them, especially when death is involved. I think this gif sums up my feelings pretty well:
The Inquisition (Summoner #2) by Taran Matharu
Publication Date: May 10, 2016
Synopsis: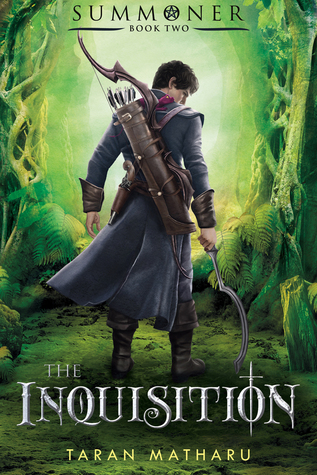 On trial for a crime he did not commit, Fletcher must face the Inquisition who will decide his future - the process is gruelling, lead by those who will do anything to see him suffer and haunted by ghosts from the past with clues to Fletcher's tragic origins.
But Fletcher has little time to dwell on these new revelations when the king announces a deadly challenge to the graduating students at Vocans. One that involves entering Orc territory to complete a risky mission. With loyal demons by their sides, commoners and nobles, dwarves and elves must overcome barriers of class and race and work together to triumph. The reward: a fortune in gold, the safety of an empire and PEACE.
With the entire empire watching, Fletcher has much to prove, but there are those out to get him and it soon becomes clear that there's a traitor in their midst, trying to thwart the mission and create unrest within the Empire. With everything stacked against him, Fletcher must use everything in his power to fight his way to victory.
The first in the Summoner series was an amazing book that truly took me by surprise, as I never expected to enjoy it as much as I did. So I am definitely super excited for this sequel. Taran Matharu is a very gifted author, and I have no clue what will happen in this novel. I can't wait to join Fletcher on another adventure!
P.S. We're trying something new this week! An author contacted us asking you to share his podcast with all of you. By listening to the podcast you can find out how to win some ebooks from a bunch of different indie authors. Here's the link to the latest podcast: Podcast
Let us know if you like this or not! If you like it, we'll keep posting the link, but if not, that's completely fine too :) Sound off in the comments!