Waiting on Wednesday is a weekly event that is hosted by Ji
ll at

Breaking the Spine

a

nd spotlights upcoming releases that we're eagerly anticipating.
Jocelyn's Waiting On:

Even if the Sky Falls: Mia Garcia
Publication Date: May 10th, 2016


Synopsis:
All she needs is one night to be anyone she wants.
Julie is desperate for a change. So she heads to New Orleans with her youth group to rebuild houses and pretend her life isn't a total mess. But between her super-clingy team leader and her way-too-chipper companions, Julie feels more trapped than ever.
In a moment of daring, she ditches her work clothes for DIY fairy wings and heads straight into the heart of Mid-Summer Mardi Gras, where she locks eyes with Miles, an utterly irresistible guy with a complicated story of his own. And for once, Julie isn't looking back. She jumps at the chance to see the real New Orleans, and in one surreal night, they dance under the stars, share their most shameful secrets, and fall in love.
But their adventure takes an unexpected turn when an oncoming hurricane changes course. As the storm gains power and Julie is pulled back into chaos she finds pretending everything is fine is no longer an option.
I think this sounds like a really cute love story with very serious undertones. PLUS - I haven't disliked one story that was set in New Orleans. I also think it'll be great for summer reading, so I'll be setting it on my TBR for this summer ;).
The Mirror King (The Orphan Queen #2) by Jodi Meadows
Publication Date: April 5, 2016
Synopsis: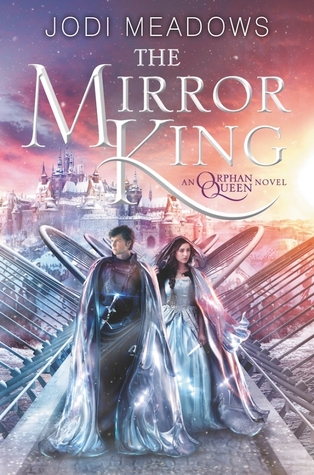 Wilhelmina has a hundred enemies.
HER FRIENDS HAVE TURNED. After her identity is revealed during the Inundation, Princess Wilhelmina is kept prisoner by the Indigo Kingdom, with the Ospreys lost somewhere in the devastated city. When the Ospreys' leader emerges at the worst possible moment, leaving Wil's biggest ally on his deathbed, she must become Black Knife to set things right.
HER MAGIC IS UNCONTROLLABLE. Wil's power is to animate, not to give true life, but in the wraithland she commanded a cloud of wraith mist to save herself, and later ordered it solid. Now there is a living boy made of wraith—destructive and deadly, and willing to do anything for her.
HER HEART IS TORN. Though she's ready for her crown, declaring herself queen means war. Caught between what she wants and what is right, Wilhelmina realizes the throne might not even matter. Everyone thought the wraith was years off, but already it's destroying Indigo Kingdom villages. If she can't protect both kingdoms, soon there won't be a land to rule.
I have high hopes for this greatly anticipated sequel to The Orphan Queen. I absolutely adored the first book, as it completely drew me in from the first page. I am very interested to see where Ms. Meadows is going to take the story, and based off of the first book in this series, there's bound to be some crazy twists that no one will see coming!