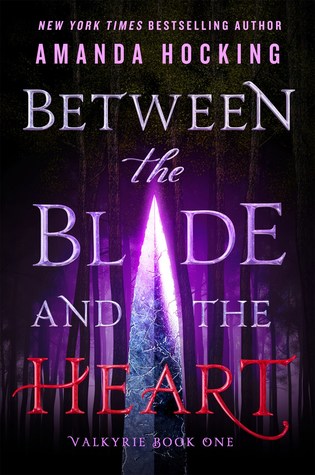 About the Book:
Title: Between the Blade and the Heart (Valkyrie #1)
Author: Amanda Hocking
Publisher: Wednesday Books
Pub. Date: January 2, 2018
Pages: 325
Rating: 4/5 stars
Valkyries have one great responsibility: to return immortals to the afterlife by slaying them. As a Valkyrie, Malin has always known that the balance of the world rests on her ability to carry out orders. But when Malin discovers that her mother spared the life of an immortal who was destined to die, her world is thrown into chaos.
Malin not only wrestles with the knowledge that her mother might not be who she thought—she's also thrust into the path of a gorgeous blue eyed guy named Asher who needs her help slaying the rogue immortal who destroyed his family. The balance of the world is at stake. And, as Asher competes with Malin's ex for her love and loyalty, so is her heart.
Amanda Hocking is the author of over twenty young adult novels, including the
New York Times
bestselling Trylle Trilogy and Kanin Chronicles. Her love of pop culture and all things paranormal influence her writing. She spends her time in Minnesota, taking care of her menagerie of pets and working on her next book.
I'm a huge fan of Amanda Hocking since the very beginning, and while I wasn't the biggest fan of
Freeks
, she certainly brought her A-game in this new series!! Amanda's writing has improved and matured over the years and it shows in
Between the Blade and the Heart
. The story is fast-paced and full of plot twists you won't see coming. I am eager to read more in this series because it's a fascinating world to be in.
The one thing I love about Amanda Hocking's novels is the creative and unique worlds she writes about. This time the story is all about Norse mythology which was excellent!! I have found that Norse mythology isn't touched on that much in YA novels (it's usually saved for NA or adult), so I love that Amanda took the risk and gave us a YA Norse mythology book. Add on top of that the topic of valkyries (which in my opinion should be a much more explored topic), this was definitely a winner for me. While I would definitely say this is upper YA, it can be enjoyed by adults and YA alike. There's definitely a lot more to learn about the world, but this novel was a great set up. The foundation of the world has been laid, but by the end I wanted to know more!! Amanda also gives the story a bit more depth than you would expect by incorporating the idea of free will vs destiny. I loved this aspect of the story and it really made you think.
The book is centered on Malin, a Valkyrie who makes kills first and asks questions later. After all, this is how she's being trained. However, when she finds out something big...so big that it changes literally everything she has come to know...she realizes that her profession and life isn't all that it seems to be. I personally loved Malin, and I loved the bisexuality rep even more. I think this is something so important to be representing in novels (especially YA novels) today, and I give Amanda a standing ovation for this. On top of this, Malin is a badass and such a strong female lead. While I didn't fully connect to her in this novel, I already am missing her character. The other characters were excellent additions to the story as well, and I am hoping they will be a little more fleshed out in future books.
I highly recommend checking out this new book by Amanda Hocking, especially if you're a fan of Norse mythology!! The story is fast-paced and action-packed. I am extremely excited to read the next book in the series and to see where the story goes. It's an easy read so pick this one up as soon as you can!