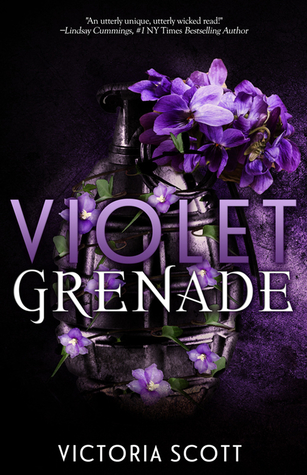 About the Book:
Title: Violet Grenade
Author: Victoria Scott
Pub. Date: May 16, 2017
Publisher: Entangled Teen
Pages: 300


Rating: 4/5 stars
Her name is Domino Ray.

But the voice inside her head has a different name.

When the mysterious Ms. Karina finds Domino in an alleyway, she offers her a position at her girls' home in secluded West Texas. With no alternatives and an agenda of her own, Domino accepts. It isn't long before she is fighting her way up the ranks to gain the woman's approval…and falling for Cain, the mysterious boy living in the basement.

But the home has horrible secrets. So do the girls living there. So does Cain.

Escaping is harder than Domino expects, though, because Ms. Karina doesn't like to lose inventory. But then, she doesn't know about the danger living inside Domino's mind.

She doesn't know about Wilson.
Obviously I was going to read this book because 1) the cover is GORGEOUS, and 2) it's by Victoria Scott. I have loved everything this woman has written so far, and I knew this wouldn't be an exception. But I will say, I wasn't expecting to like it quite as much as I did. This definitely is very different than what we have read from Ms. Scott previously, but I was here for it! I flew through this book, and read it in almost 1 sitting (the only reason I couldn't read it in 1 was because I had an exam the next day and girl needs some sleep before an exam). This book is incredibly fast-paced and has plenty of twists and turns that mean you can't trust
anyone
.
Domino is a runaway who is living on the streets of Chicago just trying to get by. She has some violent tendencies, but when everything goes down...she finds herself accepting a place at Madame Karina's Home for Girls. Sketchy? 100%. Is it what you think? Probably not...because it's actually much worse. But Domino needs a way out, and she's willing to do anything and be anyone in order to do so. Domino is a fighter through and through, and as she finds herself advancing through the ranks quicker than normal, she realizes that not everything is as it appears and that she needs to get out...like now.
Domino herself is an excellent lead. We find out bits and pieces about her life throughout the entire story and boy is it a doozy! The entire book is a crazy roller coaster ride of dark secrets and horrors that you wouldn't even think of in your wildest daydreams. But this is what made this book oh-so-good. Domino's secrets, especially Wilson, was one of the many surprising twists about this book, and with every twist I was left hanging on the edge of my seat. Speaking of Wilson, I don't know if I was supposed to love him as much as I did, but let me tell you...whenever he showed up in the story, I knew you know what was about to hit the fan and it was going down. These were easily some of the most awesome scenes in this book. Victoria Scott knows how to tell a good story, and this one is probably her best work yet!
I honestly don't know how Victoria Scott came up with the idea for this book, but I'm sure glad she did. It was unlike anything I have ever read and I loved the unique-ness of the story/plot. The book was the perfect length as well, and I loved every single sentence. I also adored the friendship that arose during Domino's time at Madame Karina's. The loyalty that formed between the two characters was completely unexpected and added yet another element to the book that made me love the story more. Check this book out now! You won't regret it!!