Waiting on Wednesday is a weekly event that is hosted by Ji
ll at

Breaking the Spine

a

nd spotlights upcoming releases that we're eagerly anticipating.
Jocelyn's Waiting On:

This Savage Song (Monsters of Verity, #1): Victoria Schwab
Publication Date: June 7th, 2016


Synopsis:
The city of Verity has been overrun with monsters, born from the worst of human evil. In North Verity, the Corsai and the Malchai run free. Under the rule of Callum Harker, the monsters kill any human who has not paid for protection. In the South, Henry Flynn hunts the monsters who cross the border into his territory, aided by the most dangerous and darkest monsters of them all—the Sunai, dark creatures who use music to steal their victim's souls.
As one of only three Sunai in existence, August Flynn has always wanted to play a bigger role in the war between the north and the south. When the chance arises to keep an eye on Kate Harker, daughter of the leader of North Verity, August jumps on it.
When Kate discovers August's secret, the pair find themselves running for their lives and battling monsters from both sides of the wall. As the city dissolves into chaos, it's up to them to foster a peace between monsters and humans.
I have heard nothing but amazing things about V.E. Schwab. I'm so excited to read her new series, I like the whole "music to steal victim's souls" kind of thing. It reminds me of the tale of The Pied Piper of Hamelin.
Warrior Witch (The Malediction Trilogy #3) by Danielle Jensen
Publication Date: May 3, 2016
Synopsis: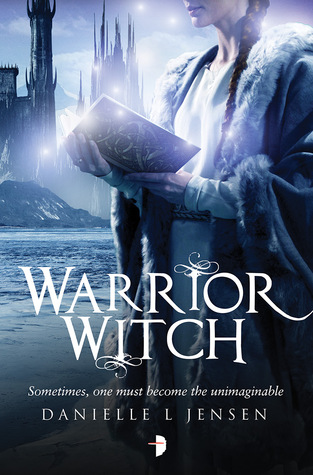 Sometimes, one must become the unimaginable
The witch is dead, the curse is broken, and the trolls are free of their mountain prison. Cécile and Tristan have accomplished all it was foretold they would, but their greatest challenge remains: defeating the evil they have unleashed. Because the trolls are not the only creatures now free to walk the world.
Enclosed within the safety of Trianon's walls, Cécile and Tristan scramble for a way to protect the people of the Isle and liberate the trolls from their tyrant king. But Cécile and Tristan both have debts, and they will be forced to pay them at a cost far greater than they had ever imagined.
While I'm so sad that this is the end of this amazing trilogy, I can't wait to get my hands on this finale! Danielle Jensen has blown me away with the previous two novels in this series, and I can't wait to see the direction she takes this story. The entire series is wonderfully unique and like something I have never read previously. If you haven't checked the series out yet, add them to your TBR pile as soon as possible! You don't want to miss out :)