Waiting on Wednesday is a weekly event that is hosted by Ji
ll at

Breaking the Spine

a

nd spotlights upcoming releases that we're eagerly anticipating.
Jocelyn's Waiting On:

Ivory and Bone: Julie Eshbaugh
Publication Date: June 14th, 2016


Synopsis:
The only life seventeen-year-old Kol knows is hunting at the foot of the Great Ice with his brothers. But food is becoming scarce, and without another clan to align with, Kol, his family, and their entire group are facing an uncertain future.
Traveling from the south, Mya and her family arrive at Kol's camp with a trail of hurt and loss behind them, and hope for a new beginning. When Kol meets Mya, her strength, independence, and beauty instantly captivate him, igniting a desire for much more than survival.
Then on a hunt, Kol makes a grave mistake that jeopardizes the relationship that he and Mya have only just started to build. Mya was guarded to begin with—and for good reason—but no apology or gesture is enough for her to forgive him. Soon after, another clan arrives on their shores. And when Mya spots Lo, a daughter of this new clan, her anger intensifies, adding to the already simmering tension between families. After befriending Lo, Kol learns of a dark history between Lo and Mya that is rooted in the tangle of their pasts.
When violence erupts, Kol is forced to choose between fighting alongside Mya or trusting Lo's claims. And when things quickly turn deadly, it becomes clear that this was a war that one of them had been planning all along
I don't really know much about the pre-historic era, but if it's all like this then obviously I've been missing out. I don't even think I've read a book set in this era, but I think Ivory and Bone will be a good place to start. I also heard there's a wooly mammoth in this book, or maybe multiple.
Tell Me Three Things by Julie Buxbaum
Publication Date: April 5, 2016
Synopsis: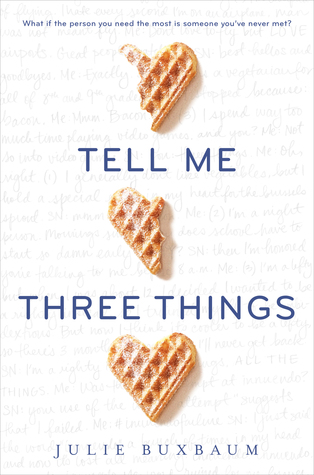 Everything about Jessie is wrong. At least, that's what it feels like during her first week of junior year at her new ultra-intimidating prep school in Los Angeles. Just when she's thinking about hightailing it back to Chicago, she gets an email from a person calling themselves Somebody/Nobody (SN for short), offering to help her navigate the wilds of Wood Valley High School. Is it an elaborate hoax? Or can she rely on SN for some much-needed help?
It's been barely two years since her mother's death, and because her father eloped with a woman he met online, Jessie has been forced to move across the country to live with her stepmonster and her pretentious teenage son.
In a leap of faith—or an act of complete desperation—Jessie begins to rely on SN, and SN quickly becomes her lifeline and closest ally. Jessie can't help wanting to meet SN in person. But are some mysteries better left unsolved?
I saw that this was supposed to be a mix of tragedy and comedy, which definitely sounds like an interesting mix to me. This seems like one of those books where (if the author does it right) these characters will seem like friends, which would be an added bonus for this story. Plus, there's waffles shaped like hearts on the cover...this has to be an awesome story haha!