Waiting on Wednesday is a weekly event that is hosted by Ji
ll at

Breaking the Spine

a

nd spotlights upcoming releases that we're eagerly anticipating.
Jocelyn's Waiting On:

The Stars Turned Away : Lisa Maxwell
Publication Date: February 2nd, 2016
Synopsis:
For as long as she can remember, Gwendolyn Allister has never had a place to call home—all because her mother believes that monsters are hunting them. Now these delusions have brought them to London, far from the life Gwen had finally started to build for herself. The only saving grace is her best friend, Olivia, who's coming with them for the summer.
But when Gwen and Olivia are kidnapped by shadowy creatures and taken to a world of flesh-eating sea hags and dangerous Fey, Gwen realizes her mom might have been sane all along.
The world Gwen finds herself in is called Neverland, yet it's nothing like the stories. Here, good and evil lose their meaning and memories slip like water through her fingers. As Gwen struggles to remember where she came from and find a way home, she must choose between trusting the charming fairy-tale hero who says all the right things and the roguish young pirate who promises to keep her safe.
With time running out and her enemies closing in, Gwen is forced to face the truths she's been hiding from all along. But will she be able to save Neverland without losing herself?
Woah, a Peter Pan retelling with a possible Captain Hook romance? Is that what you guys got form this? "Roguish young pirate"? Sounds that way to me!! I have also never read anything by this author before so I'm excited to check out her writing style!
Cassie's Waiting On:
Firstlife (Everlife #1) by Gena Showalter
Publication D

ate: February 23, 2016
Synopsis: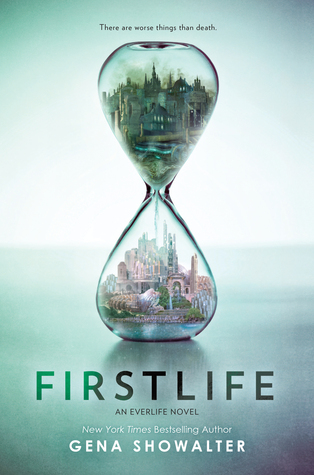 ONE CHOICE.

TWO REALMS.

NO SECOND CHANCE.

Tenley "Ten" Lockwood is an average seventeen-year-old girl…who has spent the past thirteen months locked inside the Prynne Asylum. The reason? Not her obsession with numbers, but her refusal to let her parents choose where she'll live—after she dies.

There is an eternal truth most of the world has come to accept: Firstlife is merely a dress rehearsal, and real life begins after death.

In the Everlife, two realms are in power: Troika and Myriad, longtime enemies and deadly rivals. Both will do anything to recruit Ten, including sending their top Laborers to lure her to their side. Soon, Ten finds herself on the run, caught in a wild tug-of-war between the two realms who will do anything to win the right to her soul. Who can she trust? And what if the realm she's drawn to isn't home to the boy she's falling for? She just has to stay alive long enough to make a decision…
This promises to be an exciting new YA series from Gena Showalter, who is one of my favorite authors. I was able to read the first couple chapters of this book and they already had me hooked, so I can't wait for this to come out! It sounds so interesting and unique, and there's bound to be some major twists and turns that readers never see coming.