About the Book:
Title:
A Faerie's Secret (Creepy Hollow #4)
Author: Rachel Morgan
Publication Date; June 16, 2015
Publisher: Smashwords
Pages: 278 pgs
Rating: 5/5 stars
Synopsis:
Calla Larkenwood wants nothing more than to be a guardian, but her overprotective mother has never allowed it. When circumstances change and Calla finally gets to join a Guild, she discovers guardian trainee life isn't all she hoped it would be. Her classmates are distant, her mentor hates her, and keeping her Griffin Ability a secret is harder than she thought. Then an initiation game goes wrong, landing Calla with a magical ability she can't control. She needs help—and the only way she can get it is by bargaining with the guy who just discovered her biggest secret.
Join beloved characters and new heroes as the bestselling Creepy Hollow series continues.
Review:
I don't even know where to begin with this book because it was simply such an amazing read! Fast-paced, fun, and filled to the brim with exciting adventures, I never wanted this book to end. It was so nice to be back in Creepy Hollow, seeing old favorites return, and (kind of) new characters finding a new place in my heart. It's not secret that I love this series, and Ms. Morgan does a fantastic job at bridging the original series with this installment. While you don't necessarily
have
to read the first 3 novels in the series, you will be greatly missing out if you don't! You feel a much stronger connection to the story, and you understand what went on 10 years ago as this was what the first 3 books were about. Nevertheless, you will not be confused if you decided to start with this novel, as Ms. Morgan writes the story with a great clarity and brilliance. You will instantly be transported to Creepy Hollow, feeling like you are right there along with the characters going through the Faerie Paths, and taking part in the Fishbowl.
This story follows Calla, Ryn's sister. She's all grown up, and has a major secret that she is keeping from everyone. For if anyone finds out about this secret, well let's just say it won't be good for anyone involved. She has very few people she can trust, and she quickly realizes that some of those people she might not be who she thought they were to begin with. Everyone has secrets, and some will do anything to keep those secrets quiet. This is extremely important to remember while reading this book (and you'll see why after you finish reading). I loved Calla as a lead character. In fact, she was just as great as Vi! Calla's feisty and fierce, and does what she wants. I loved her spunk, and even when everything was against her, she never gives up. And then there's Chase. Calla meets him in an unexpected place, and from there the mystery deepens. Calla can't get a read on him, and she certainly can't figure out why he's keeping his past so secret. But oooh boy, when Calla (and the reader) finds out...let's just say you will
NOT
believe what you just read. Chase was such an intriguing character, and I loved the balance he provided for Calla. They work so well together as a team, and I'm very interested to see what the next book has in store for them.
So that moment I was talking about before where there's this big revelation in regards to Chase...that's how the book ends. Suffice to say, it's a MAJOR CLIFFHANGER! This is the mother of all cliffhangers people, and you're jaw will drop. Ms. Morgan certainly knows how to craft a shocking moment, and I applaud her for being able to render me speechless with one single word. This was literally me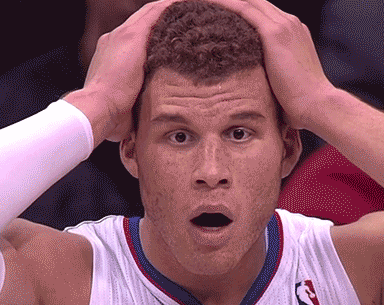 If you are a fan of this series, this is a must read! You don't want to miss out on the exciting adventures of Calla, as well as seeing your favorite characters and learning what they've been up to in the past 10 years.
Don't miss out of this one, or you'll regret it! Check in on Thursday for my review of the next book in the series, A Faerie's Revenge.