About the Book: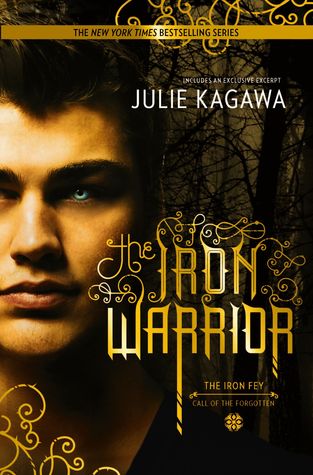 Title: The Iron Warrior (The Iron Fey: Call of the Forgotten #3)
Author: Julie Kagawa
Pub. Date: Oct. 27, 2015
Publisher: Harlequin Teen
Pages: 384
Genre: Young Adult, Fantasy, Paranormal, Fairies
Rating: 5/5 stars
The Iron Prince—my nephew—betrayed us all.
He killed me.
Then, I woke up.
Waking after a month on the brink of death, Ethan Chase is stunned to learn that the Veil that conceals the fey from human sight was temporarily torn away. Although humankind's glimpse of the world of Faery lasted just a brief moment, the human world has been cast into chaos, and the emotion and glamour produced by fear and wonder has renewed the tremendous power of the Forgotten Queen. Now, she is at the forefront of an uprising against the courts of Summer and Winter—a reckoning that will have cataclysmic effects on the Nevernever.
Leading the Lady's Forgotten Army is Keirran himself: Ethan's nephew, and the traitor son of the Iron Queen, Meghan Chase.To stop Keirran, Ethan must disobey his sister once again as he and his girlfriend, Kenzie, search for answers long forgotten. In the face of unprecedented evil and unfathomable power, Ethan's enemies must become his allies, and the world of the fey will be changed forevermore.
This is it...the very last Iron Fey book. I'll just let that sink in for a bit. No more fey, no more hilarious talking cats, no more Puck, Ash, or Meghan.
Okay...deep breath...
The Iron Warrior
is a fantastic ending to a even more fantastic series. This series has been a part of my life for so long, and I have been invested since the very first page. Julie Kagawa pulled me in and never let me go. I was easily immersed in the faerie world, and I never wanted to leave. This series will always have a special place in my heart as it was one of the first series I read that featured faeries. And it was
the
first faerie book that I absolutely adored. Ms. Kagawa simply has a way of writing that gets into your heart and always has a special place. She crafts stories that leave you breathless and on the edge of your seat until the very last page.
So after that killer finale (see what I did there haha), I had no idea what was going to happen in this book. It's no secret that Ethan isn't dead (not that I ever thought he was), but now he has to travel through the Nevernever, the Between, and to areas that few fey ever venture to, in order to save everyone from Kierran and the Forgotten. Kierran has gone completely cuckoo for coco puffs, and has declared war on all the courts, all in the name of the Lady/One True Queen.
From beginning to end, this was an exciting novel. I loved coming back to the Nevernever, and seeing all of our old favorites: Ash, Meghan, Puck, Grim, etc. But these past couple of books have always been Ethan's books, and he truly shines in this novel. He has grown so much from the beginning, and has finally accepted how his life is. Ethan realizes why Meghan did what she did, and that she never meant for Ethan to feel abandoned. There were some truly touching moments between Ethan and Meghan that were everything I could have ever asked for. They were truly beautiful moments between brother and sister, something that hasn't happened for a very long time for the two of them. Kenzie was hilarious and amazing, and I was so happy that she and the cutie that is Razor were back for another crazy whirlwind adventure. Kenzie and Ethan are wonderful together, and while not as good as Ash and Meghan, I still love them as a couple.
Ms. Kagawa definitely didn't hold back with this finale. Sacrifices were made, and yes, people had to die. It was especially sad with one particular character's death (which I won't spoil, but seriously...it was a tearjerker). I was hoping that there would be some sort of faerie loophole (since we all know how faeries love loopholes) that would allow that character to return, but alas...it didn't happen. Nevertheless, this was a very strong ending to the series that was filled with twist and turns until the very end. The story very fast-paced, but it was perfect for the story. Never once did it drag or get boring. Every step played a role in their ultimate challenge/ending, and I loved seeing how everything came together in the end.
Overall, this was an amazing end to an amazing series, and I am very sad to see it go. The ending was definitely open-ended for Ms. Kagawa to revisit the Nevernever again someday, but for now, I have to say goodbye to my beloved characters. This is a series that will always have a special place in my heart, and will be re-read forever. Thank you Julie Kagawa for giving me and other readers such an amazing series that has had such an impact on all of us; a series that has taught as to love and always fight with everything we have, even when the odds are against us.