Waiting on Wednesday is a weekly event that is hosted by Ji
ll at

Breaking the Spine

a

nd spotlights upcoming releases that we're eagerly anticipating.
Cassie's Waiting On: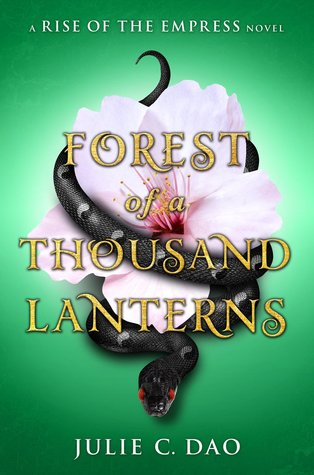 Forest of a Thousand Lanterns (Rise of the Empress #1) by Julie C. Dao
Publication Date: October 10th, 2017
Synopsis:
Eighteen-year-old Xifeng is beautiful. The stars say she is destined for greatness, that she is meant to be Empress of Feng Lu. But only if she embraces the darkness within her. Growing up as a peasant in a forgotten village on the edge of the map, Xifeng longs to fulfill the destiny promised to her by her cruel aunt, the witch Guma, who has read the cards and seen glimmers of Xifeng's majestic future. But is the price of the throne too high?

Because in order to achieve greatness, she must spurn the young man who loves her and exploit the callous magic that runs through her veins--sorcery fueled by eating the hearts of the recently killed. For the god who has sent her on this journey will not be satisfied until his power is absolute.
This is supposed to be an East Asian spin on The Evil Queen legend and I am here for it! This has been on my TBR for a long time (like since last year haha), so to say I'm excited for this one is an understatement. I really hope this is as amazing as it sounds!
Jocelyn's Waiting On:
Vanilla by Billy Merrell
Publication Date: October 10th, 2017
Synopsis:
A bold, groundbreaking novel about coming out, coming into your own, and coming apart.
Hunter and Van become boyfriends before they're even teenagers, and stay a couple even when adolescence intervenes. But in high school, conflict arises -- mostly because Hunter is much more comfortable with the sex part of sexual identity. As the two boys start to realize that loving someone doesn't guarantee they will always be with you, they find out more about their own identities -- with Hunter striking out on his own while Van begins to understand his own asexuality.
In poems that are romantic and poems that are heartbreaking, Vanilla explores all the flavors of the spectrum -- and how romance and love aren't always the same thing.
I love LGBT novels. I think they are amazing in the way that, for me, they not only entertain but they also inform. I love learning about different lifestyles and it helps me as a psychologist recognize some of the issues that people go through as they are coming out.