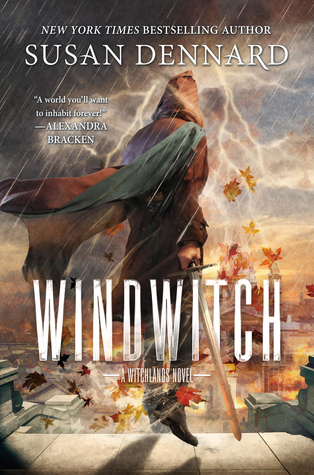 About the Book:
Title: Windwitch (The Witchlands #2)
Author: Susan Dennard
Pub. Date: January 10, 2017
Publisher: Tor Teen
Pages: 384
Rating: 5/5 stars
Sometimes our enemies are also our only allies…
After an explosion destroys his ship, the world believes Prince Merik, Windwitch, is dead. Scarred yet alive, Merik is determined to prove his sister's treachery. Upon reaching the royal capital, crowded with refugees, he haunts the streets, fighting for the weak—which leads to whispers of a disfigured demigod, the Fury, who brings justice to the oppressed.
When the Bloodwitch Aeduan discovers a bounty on Iseult, he makes sure to be the first to find her—yet in a surprise twist, Iseult offers him a deal. She will return money stolen from him, if he locates Safi. Now they must work together to cross the Witchlands, while constantly wondering, who will betray whom first?
After a surprise attack and shipwreck, Safi and the Empress of Marstok barely escape with their lives. Alone in a land of pirates, every moment balances on a knife's edge—especially when the pirates' next move could unleash war upon the Witchlands.
I am such a huge fan of Susan Dennard and had this book preordered as soon as I possibly could! I fell in love with the first book in the series,
Truthwitch
, but this one was absolutely mind blowing! Susan Dennard deserves a huge round of applause for creating this book and giving all readers such an epic fantasy novel to enjoy!
Windwitch
is an emotional thrill ride that leaves you begging for more as the book draws to its close.
"It is always easier to blame gods or legends than it is to face our own mistakes."
My one complaint about the last book was that the world building was a tiny bit confusing. However, that was very quickly remedied in this novel as everything becomes very clear early on. However, not only does Ms. Dennard clear some things up that we were confused about in the previous book, but she also expands upon the world she has established and built it up so much more. I honestly was blown away by the extent of the world building in this novel and how absolutely marvelous it was. Everything about this book is so well written and Ms. Dennard (who I have always found to be an excellent writer) has become an author that rivals some of the best out there! There is much more politics and intrigue incorporated into the story but it never becomes overwhelming. In fact, it adds that much more to the story and makes it exciting. You never know who will become your ally and who will wind up betraying you. There were many surprises that I never saw coming in this story, and it made for an exhilarating read.
The writing flows effortlessly off the page, and you can tell how much blood, sweat, and tears Ms. Dennard put into creating this story. She incorporated more action, more character development, and more twists than before. While there are some things the reader is left questioning, it's entirely intentional as we aren't
supposed
to know yet. I know some people might not like the amount of action that was featured in this book, but I wholeheartedly enjoyed it! It was thrilling and no one can ever say that Ms. Dennard can't write an action scene. I was write there along with the characters, my heart pounding and my mind racing with who would win. There is a noticeable lack of romance in this story, but honestly that's never been the focus of the story anyway, and as such, I didn't mind.
"I told you, Hell-Bard. Everyone lies. It's in the way we banter with our friends. It's in the mundane greetings we give passersby. It's in the most meaningless things we do every single moment of every single day. Hundreds upon thousands of tiny, inconsequential lies."
While this is Merik's book, all of the characters are back. Interestingly though, none of them really cross paths except for Iseult and Aeduan. When I realized that Iseult and Aeduan (who I was already shipping in the last book) were going to be together for the majority of this book, I was ecstatic! They are such an interesting couple and the growth each of the characters went through over the course of the story was utterly fantastic! While at first they were hesitant to trust each other and had their walls built high, over time, they came to let their guard down some and let the other in. You feel the chemistry between them with every fiber of your being, and you just want them to be together in the end. I have shipped very few people as hard as I am shipping Iseult and Aeduan. Little by little, they grow to trust each other and you only realize this through small things during their scenes together. For example, when Aeduan let's Iseult walk behind him after always having her in front of him because he never trusted her unless he could see her. We learn so much more about Aeduan and my heart broke for him multiple times. I honestly can't wait to see where their story progresses from here!
Safi and Iseult, our Threadsisters, are never physically in a scene together but that doesn't mean they aren't thinking about each other. Their friendship is beautiful and so strong. To me, it really is the center of the story. They prove time and time again that true friendship knows no bounds. That despite miles and miles between them, they can still aid each other in times of need. They help each other stay strong and focused no matter the situation. They both struggled a lot during this book, but each has found a way to overcome and persevere.
"If Iseult were here, then Safi could charge off into that jungle without a second thought. With Iseult, Safi was brave. She was strong. She was fearless."
Safi and Vaness are working together in this book and it was a surprising interaction to say the least. Their adventures were very much action-packed and quite hilarious. You never knew who was going to turn out to be an ally in their scenes.
"Oh, I know!" Safi clapped her hands, delighted by her own genius. "I shall call you Un-empressed."
"Please," Vaness said coldly, "stop this immediately."
Safi absolutely did not."
Merik, who was a favorite of mine in the previous book, was a bit irritating at first. He was much more arrogant and I felt like somebody or something needed to come along and whip him into shape. And that something did in the form of a brilliant twist, and everything started making sense. I loved Merik and Cam together...they certainly make a fun and interesting pair. Merik grows significantly in this story and I loved that he learned from and accepted his mistakes. He realized many of his presumptions were not correct, and he needed to correct his attitude and outlook. Vivia, Merik's sister, who was featured in the last book, was always a character that I never liked. However, she gets her own POV in this story and while at first I was internally groaning, I actually really loved her! She was very misunderstood from the first book, and I like that Ms. Dennard was able to change my mind about her. I was actually rooting for her, so you can see how I did a complete 360 there. Whereas before Vivia came across evil and harsh, in her chapters, she appeared more human, more vulnerable, and more relatable. It was very interesting to read.
As I said, there was a lack of romance in this story, but I found that I didn't mind it one bit! Susan Dennard has delivered an amazing story that will please any fan of the series. She has opened so many new doors and revealed so many new things that I'm not sure where the story will go from here. But I am looking forward to the unpredictable nature of this story and seeing what Ms. Dennard has in store for us in the third novel! Read this one now!!