Waiting on Wednesday is a weekly event that is hosted by Ji
ll at

Breaking the Spine

a

nd spotlights upcoming releases that we're eagerly anticipating.
Cassie's Waiting On: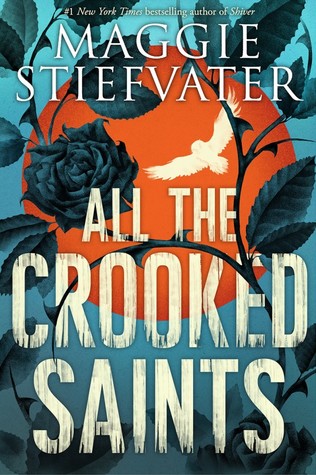 All the Crooked Saints by Maggie Stiefvater
Publication Date: October 10th, 2017
Synopsis:
Here is a thing everyone wants:
A miracle.


Here is a thing everyone fears:
What it takes to get one.

Any visitor to Bicho Raro, Colorado is likely to find a landscape of dark saints, forbidden love, scientific dreams, miracle-mad owls, estranged affections, one or two orphans, and a sky full of watchful desert stars.

At the heart of this place you will find the Soria family, who all have the ability to perform unusual miracles. And at the heart of this family are three cousins longing to change its future: Beatriz, the girl without feelings, who wants only to be free to examine her thoughts; Daniel, the Saint of Bicho Raro, who performs miracles for everyone but himself; and Joaquin, who spends his nights running a renegade radio station under the name Diablo Diablo.

They are all looking for a miracle. But the miracles of Bicho Raro are never quite what you expect.
I have had my ups and downs with Maggie Stiefvater, but I'm very excited for her new book! It sounds very intriguing and mysterious and I've heard some great things about this book already. And I'm kind of obsessed with that cover. Here's hoping it's another win!
Jocelyn's Waiting On:
The Hollow Girl by Hillary Monahan
Publication Date: October 10th, 2017
Synopsis:
Five boys attacked her.
Now they must repay her with their blood and flesh.
Bethan is the apprentice to a green healer named Drina in a clan of Welsh Romanies. Her life is happy and ordered and modest, as required by Roma custom, except for one thing: Silas, the son of the chieftain, has been secretly harassing her.
One night, Silas and his friends brutally assault Bethan and a half-Roma friend, Martyn. As empty and hopeless as she feels from the attack, she asks Drina to bring Martyn back from death's door. "There is always a price for this kind of magic," Drina warns. The way to save him is gruesome. Bethan must collect grisly pieces to fuel the spell: an ear, some hair, an eye, a nose, and fingers.
She gives the boys who assaulted her a chance to come forward and apologize. And when they don't, she knows exactly where to collect her ingredients to save Martyn.
Witches? Yes please!! I've become more and more interested in horror novels, and what better time to read one than right before Halloween? This year, I'm definitely going to write a list of my favorite fall reads and post it on here. I hope this one is as spooky as it sounds!