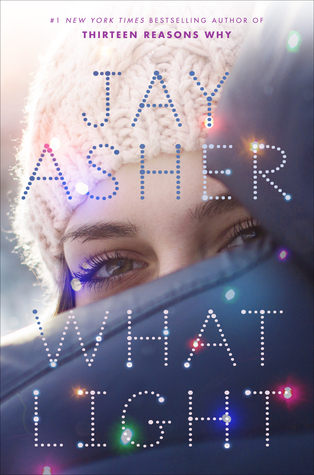 About the Book:
Title: What Light
Author: Jay Asher
Pub. Date: Oct. 18, 2016
Publisher: Razorbill
Pages: 251
Rating: 4/5 stars
From Jay Asher, #1 New York Times bestselling author of Thirteen Reasons Why, comes a romance that will break your heart, but soon have you believing again. . . .
Sierra's family runs a Christmas tree farm in Oregon—it's a bucolic setting for a girl to grow up in, except that every year, they pack up and move to California to set up their Christmas tree lot for the season. So Sierra lives two lives: her life in Oregon and her life at Christmas. And leaving one always means missing the other.
Until this particular Christmas, when Sierra meets Caleb, and one life eclipses the other.
By reputation, Caleb is not your perfect guy: years ago, he made an enormous mistake and has been paying for it ever since. But Sierra sees beyond Caleb's past and becomes determined to help him find forgiveness and, maybe, redemption. As disapproval, misconceptions, and suspicions swirl around them, Caleb and Sierra discover the one thing that transcends all else: true love.
Review:
I was actually really surprised by the low rating that this book has received on Goodreads when I first started reading it (and I still am), but I didn't let this sway me while I was reading. I also tried to go into this book with a clear mind, and not compare it to Jay Asher's brilliant work (
Thirteen Reasons Why
, which if you haven't checked out yet, I highly recommend that you do). So with those 2 things in mind, I ventured into reading his newest novel, and was extremely impressed. Did it blow me away, no, but this was a cute, quick story that was the perfect Christmas-time read. I read this literally 2 days before Christmas, and it had everything that I wanted at that time...Christmas trees, pretty lights, hot cocoa, ugly sweaters, candy canes...I could go on and on! Honestly, I could easily see this being a Hallmark Christmas movie (and I'm a sucker for those things). The story was incredibly heartwarming and just a feel-good, light romance, and exactly what I needed.
Jay Asher delivered another book with characters that you easily begin to care about as soon as the story begins. Sierra was a caring, kind person that just wanted the best for everyone. She was down-to-earth, and a great MC to read about. Caleb made me swoon
multiple
several hundred times, and despite his secret (which wasn't as dark as the synopsis made it out to be), he more than made up for his "mistake." I honestly loved his character, and how selfless he was. Every girl deserves a Caleb in her life. But most importantly, I loved how mature they were in their relationship. When they got into an argument, they actually used their words and didn't just make those snap judgments that every other couple in books these days tends to do. It made their relationship more believable to me because it showed that 2 people can actually be adults and handle an argument maturely. Also, despite how quickly they "fell" for each other, their relationship seemed extremely natural and progressed at a normal pace. Again, this was refreshing to read since this isn't common in books anymore. Caleb and Sierra's relationship is very clean, and it focused more on them getting to know each other than trying to get in each other's pants.
I will say that I flew through this book and easily read it in one sitting. In some ways it actually felt more like a novella rather than a full length novel. I'm not necessarily saying that I wanted more pages in the book, but the book just seemed incredibly short to me. Nothing particularly exciting or dramatic happened in the story, which in my opinion would have felt out of place if it did. And those are my only complaints (which really aren't complaints more just observations).
Overall, Jay Asher's,
What Light
is a lighthearted, fun Christmas romance. Sure, you could easily write this one off as "just another holiday inspired story," but it truly is a great novel that takes you into a winter wonderland for a couple hours. It's not as gripping or thought-provoking as
13 Reasons Why
, but I never expected it to be. So grab some hot chocolate, cookies, and this book, and read this book now!
Happy reading :)