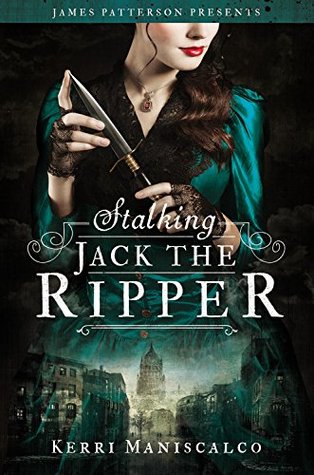 About the Book:
Title: Stalking Jack the Ripper (Stalking Jack the Ripper #1)
Author: Kerri Maniscalco
Pub. Date: Sept. 20, 2016
Publisher: Jimmy Paterson
Pages: 326
Rating: 4/5 stars
Seventeen-year-old Audrey Rose Wadsworth was born a lord's daughter, with a life of wealth and privilege stretched out before her. But between the social teas and silk dress fittings, she leads a forbidden secret life.
Against her stern father's wishes and society's expectations, Audrey often slips away to her uncle's laboratory to study the gruesome practice of forensic medicine. When her work on a string of savagely killed corpses drags Audrey into the investigation of a serial murderer, her search for answers brings her close to her own sheltered world.
"Roses have both petals and thorns, my dark flower. You needn't believe something weak because it appears delicate. Show the world your bravery."
Kerri Maniscalco's debut novel is a definite must read for fans of mystery and suspense novels, and is sure to be a hit! I was blown away by how much I enjoyed this one, and I certainly didn't expect to like it as much as I did. Let's face it, there have been a
TON
on books written about Jack the Ripper, and they can either be really good or just eh. Fortunately, Kerri did an excellent job at weaving the Jack the Ripper mystery into a very unique story that keeps you gripped right from the beginning. Her writing is excellent, and she tells a macabre tale that you never want to stop reading. The characters are a definite highlight and truly make the entire book, and I'm interested to see where she takes the story in the future.
"Wield your assets like a blade, Cousin. No man has invented a corset for our brains. Let them think they rule the world. It's a queen who sits on that throne. Never forget that."
Our main character, Audrey, is far from the perfect lady that her father (and society) would like her to be. Interested in forensics and cutting up dead bodies instead of sipping tea and learning embroidery, you could definitely say that Audrey has some trouble fitting in. However, she has found her niche and she's sticking to it! I admired that tenacity and determination she had. Audrey was such a strong female lead and I loved reading from her perspective. Audrey is a girl that is determined to prove society wrong...that girls can do more than just look pretty and find a husband. She wants to show that women can accomplish great things and are capable of much more than discussing the latest gossip and the newest bachelors. She's reckless and impulsive, but that just makes her an even more enjoyable character to read about! It was that personality that attracted a certain British hottie named Thomas Cresswall.
"Thomas smiled at my eye roll, puffing his chest up and standing with one foot proudly resting on a chair as if posing for a portrait. "I don't blame you, I am rather attractive. The tall, dark hero of your dreams, swooping in to save you with my vast intellect. You should accept my hand at once."
Thomas seriously had me swooning. Who knows why because he's arrogant, cold, and distant...but he's also hilariously sarcastic, witty, and loyal to the core. He cares a great deal about Audrey, and I loved how protective he was of her throughout the novel. Thomas reminded me a lot of Sherlock Holmes and perhaps that's why I enjoyed his character so much! Plus, the banter he and Audrey had was pure gold! They're always bickering back and forth, getting on each other's nerves...you see where this is going. Honestly, the attraction and chemistry between them is undeniable, and I loved watching their relationship form.
"I promise. I'll be as silent as the dead."
"Ah," Uncle said, putting a hat on and tugging it low, "the dead speak to those who listen. Be quieter than even them."
The entire backdrop to this story was amazing. I thought that Kerri did an excellent job at weaving the Jack the Ripper story into the plot, and it made for such an exciting read. There were definitely some graphic scenes (this was just due to the descriptions of the murder scenes), but this is Jack the Ripper, so it's was pretty gruesome. I actually applaud Kerri for not shying away from Jack the Ripper's disgusting work. The way she told the story made everything so eerie and I felt as if I was right there next to Audrey and Thomas walking the foggy streets of London trying to solve the murders.
"Fear is a hungry beast. The more you feed it, the more it grows."
Kerri Maniscalco's debut novel is excellent, and I highly recommend checking this book out as soon as possible. While there are some graphic scenes, I think this book will appeal to many readers. If you're even remotely interested in the Jack the Ripper story, you'll definitely enjoy this read. With strong characters and a plot that is the perfect mix of creepy and cool,
Stalking Jack the Ripper
is sure to be a hit!