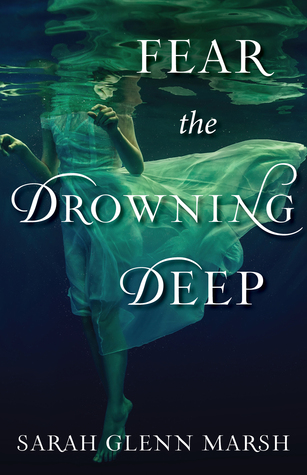 About the Book:
Title: Fear the Drowning Deep
Author: Sarah Glenn Marsh
Pub. Date: Oct. 11, 2016
Publisher: Sky Pony Press
Pages: 304
Rating: 3.5 stars
Witch's apprentice Bridey Corkill has hated the ocean ever since she watched her granddad dive in and drown with a smile on his face. So when a dead girl rolls in with the tide in the summer of 1913, sixteen-year-old Bridey suspects that whatever compelled her granddad to leap into the sea has made its return to the Isle of Man.
Soon, villagers are vanishing in the night, but no one shares Bridey's suspicions about the sea. No one but the island's witch, who isn't as frightening as she first appears, and the handsome dark-haired lad Bridey rescues from a grim and watery fate. The cause of the deep gashes in Fynn's stomach and his lost memories are, like the recent disappearances, a mystery well-guarded by the sea. In exchange for saving his life, Fynn teaches Bridey to master her fear of the water — stealing her heart in the process.
Now, Bridey must work with the Isle's eccentric witch and the boy she isn't sure she can trust — because if she can't uncover the truth about the ancient evil in the water, everyone she loves will walk into the sea, never to return.
This debut novel from Sarah Glenn Marsh truly surprised me with how much I enjoyed the story. With a fast pace and unique twists, this book is sure to impress many readers. It was dark and haunting, and extremely original. I can definitely say that I didn't guess most of the plot, and it was a refreshing read. However, the one thing that made me lower my rating was the insta-love (I'll go into this in a bit). Set against a gorgeous backdrop of the Isle of Man in early 1900s, Sarah Glenn Marsh has written an impressive novel that shows she is an author to watch!
The one part of this novel that stood out to me was Ms. Marsh's writing. It was beautiful, and you're instantly transported to the Isle of Man. The beginning chapters grip you and never let you go. As I said, the book is very fast paced and I was never bored. The mystery of what is truly behind the disappearances of the young girls on the island is something you would never expect, and I loved this unique twist to the story. I had a lot of theories, but nothing even remotely came close to what was actually going on. The other aspect of this novel that stood out to me was the focus on family. Considering this is a book that actually features the main character's parents, it already gets a gold star from me since this is extremely rare in any book these days. But Bridey's relationship with her family is strong and a very important aspect of the story. They all stood by each other even when the rest of the Island was turned against Bridey and Fynn. I loved that her family played a role in the story, and it truly enhanced the story.
I did enjoy Bridey as our main character. She's headstrong, stubborn, and willing to do whatever it takes to help her family. However, she is very much the outcast because of the events surrounding her grandfather's death and the "crazy" things she saw. Regardless of this, she's determined to live her life how she sees fit. She has big dreams of getting off the Island, and I was rooting for her throughout the entire story. Fynn was a great character as well, but as I said, the big problem I had with this book was the insta-love. They didn't even speak 2 words to each other and they (well mainly Fynn first and foremost) was in love with Bridey. Their entire romance was incredibly rushed and because of this felt extremely unbelievable. And then when the big twist comes, Bridey does a complete 180 and doesn't love him anymore. I don't know....it just made me do a huge eye roll while reading. The ending also left me feeling a bit unsatisfied because I felt that it too was rushed and then the story just ended. I wanted more of a conclusion overall.
Sarah Glenn Marsh has written a great debut novel that definitely proves she is an author to keep an eye on. I know that I will be checking out future books from her for sure! Despite the insta-love and the slightly unsatisfying ending, I would recommend checking this one out. It's fast-paced, beautifully written, and features something new and unique, and who doesn't like that?