Waiting on Wednesday is a weekly event that is hosted by Ji
ll at

Breaking the Spine

a

nd spotlights upcoming releases that we're eagerly anticipating.
Jocelyn's Waiting On:

The Crown (The Selection, #5): Kiera Cass
Publication Date: May 3rd, 2016


Synopsis:
Twenty years have passed since the events of The One, and America and Maxon's daughter is the first princess to hold a Selection of her own. Princess Eadlyn didn't think she would find a real partner among the Selection's thirty-five suitors, let alone true love. But sometimes the heart has a way of surprising you...and now Eadlyn must make a choice that feels more difficult—and more important—than she ever expected.
Well ... it's no secret that I have mixed feelings about this series. I adored the first two, and thought the 3rd was pretty unnecessary. I didn't like The Heir either - Eadlyn was a raging bitch, am I right? HOWEVER - I always like to finish series. I am excited to see what will *finally* come of this series. I'm hoping Kiera Cass can craft the kind of surprise and love that seemed to flow on the pages effortlessly in The Selection and The Elite.
Night Study (Soulfinders #2) by Maria V. Snyder
Publication Date: January 26, 2016
Synopsis: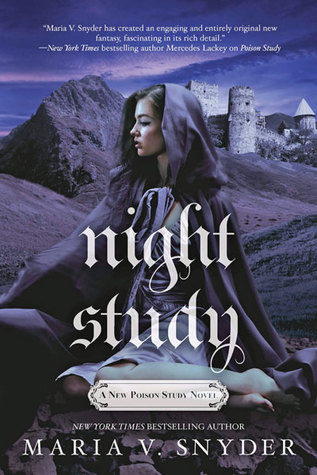 Ever since being kidnapped from the Illiais Jungle as a child, Yelena Zaltana's has been fraught with peril. But the recent loss of her Soulfinding abilities has endangered her more than ever before. As she desperately searches for a way to reclaim her magic, her enemies are closing in, and neither Ixia nor Sitia are safe for her anymore. Especially since the growing discord between the two countries and the possibility of a war threatens everything Yelena holds dear.

Valek is determined to protect Yelena, but he's quickly running out of options. The Commander suspects that his loyalties are divided, and he's been keeping secrets from Valek...secrets that put him, Yelena and all their friends in terrible danger. As they uncover the various layers of the Commander's mysterious plans, they realize it's far more sinister that they could have ever imagined.
I have been in love with this series for such a long time, and Valek and Yelena have always been one of my favorite couples. Maria V. Snyder has created such a wonderful world that I never want to leave, and am happy to revisit time and time again. I know this will be another amazing addition to this series and I can't wait to see what twists she has in store for us!!