About the Book: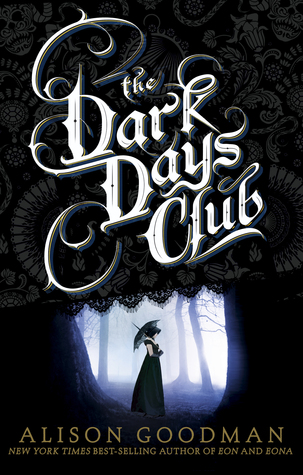 Title: The Dark Days Club (Lady Helen #1)
Author: Alison Goodman
Pub. Date: January 26, 2016
Publisher: Viking Books for Young Readers
Pages: 496
Genre: Historical Fiction, Fantasy, Young Adult, Paranormal
Rating: 4/5 stars
London, April 1812. On the eve of eighteen-year-old Lady Helen Wrexhall's presentation to the queen, one of her family's housemaids disappears-and Helen is drawn into the shadows of Regency London. There, she meets Lord Carlston, one of the few who can stop the perpetrators: a cabal of demons infiltrating every level of society. Dare she ask for his help, when his reputation is almost as black as his lingering eyes? And will her intelligence and headstrong curiosity wind up leading them into a death trap?
Review:


This is the first novel that I have read by Alison Goodman, but I must say that I was very impressed. She crafted a wonderful novel that was unique and very well written. It was new and a refreshing read. There was a lot to enjoy with this novel from the exciting world to the strong female friendships. This book remained realistic to the time period in which it is set, while also taking creative license in other areas. I loved the blend of the mythology with the dark London atmosphere. It fit the novel perfectly, and I am interested to see where the story goes in the next novel.
Helen, our MC, is great as the female lead. She is not only strong-willed, outspoken, and up for an adventure--unlike most girls in her time, but also quick-witted, very intelligent (with a desire to learn even more), and very curious. Suffice to say, Helen isn't your typical 19th century girl. Helen isn't that interested in getting married, she is interested in abilities that have suddenly begun to manifest themselves. I loved Helen's adventurous spirit, and she didn't back down when she finds out what is going on. This being said, she also didn't jump right into the society. She took her time making her decision. This aspect was actually my favorite part of this novel. Most times, in historical fiction (or even in novels set in modern day), the MC is basically forced into their role. If you can see demons, well too bad, you have to fight demons now. But in this novel, Alison Goodman did something different, she gave Helen a choice. Helen sorted through all the facts, and introduced herself to the world before making any decisions. And by the end, she did make a decision.
I also applaud Ms. Goodman for featuring such strong female friendships in this novel. I adored Darby, Helen's maid. She was the perfect friend for Helen, and provided a good balance to her character in the novel. Lord Carlston was certainly an interesting character as well. He is very misunderstood, and no one trusts him after he was thought to have murdered his previous wife. While he definitely is a mystery and we don't learn too much about him, his personality comes shining through. You can tell that he does care about Helen, and is very respectable toward her. I did like the fact that he never pushed Helen into joining the society. Obviously, he wanted her to, but he always gave her a choice.
My only complaint with this novel was the length and pacing. This novel is close to 500 pages, and in my opinion it could have been about 100 (maybe even more) pages shorter. There were some very exciting moments, but then there were pages upon pages where the story dragged. It wasn't particularly boring, but these extra scenes weren't at all necessary. Now don't get me wrong, I
love
long novels, and in some books it feels like you didn't read that large amount of pages at all. But in this book you definitely feel like you're reading 500 pages. It doesn't go fast, and it takes a lot of time to read the novel. However, this was most prevalent in the middle of the novel, and afterwards the novel picks up immensely.
Overall, I would definitely recommend checking this novel out if you're into historical fiction with strong female leads. I do hope the second book is edited down a bit more to allow for the pacing of the novel to stay consistent throughout reading, but I am interested to see what is in store for Helen and the other characters in the next book.
Thank you to Penguin Teen for providing
this book in exchange for an honest review.