About the Book: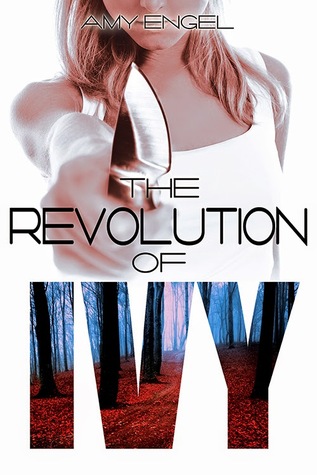 Title:
The Revolution of Ivy (Book of Ivy, #2)
Author: Amy Engel
Pub. Date: Nov. 3, 2015
Publisher: Entangled Teen
Pages: 290
Genre
: Young Adult, Romance, Dystopia
Synopsis :


Ivy Westfall is beyond the fence and she is alone. Abandoned by her family and separated from Bishop Lattimer, Ivy must find a way to survive on her own in a land filled with countless dangers, both human and natural. She has traded a more civilized type of cruelty--forced marriages and murder plots--for the bare-knuckled brutality required to survive outside Westfall's borders.

But there is hope beyond the fence, as well. And when Bishop reappears in Ivy's life, she must decide if returning to Westfall to take a final stand for what she believes is right is worth losing everything she's fought for.
Review:


After finishing
The Book of Ivy
, I had no idea what would happen in this book. I had high expectations for this sequel/finale to Amy Engel's duology, and she more than delivered for me. This story picks up right where we left off in the previous book with Ivy outside of the fence, trying to survive not only the elements, but the others who have been "put out" as well. Amy Engel did a fantastic job at developing Ivy's character even more, and takes the reader on a non-stop action-packed journey that is as full of both growth and realization. Ms. Engel's writing is just as amazing as in her previous novel, and she truly knows how to draw the reader in. Every single scene is described perfectly so that you can picture and almost feel the harsh elements that Ivy is facing as well as her emotions.
The one aspect of
The Book of Ivy
that I was a little unhappy with was the mild nature of Ivy. While she was strong in her own ways in that first book, I kept wanting her to defy everyone and find her strength. Well suffice to say, Ms. Engel delivered that characterization in this book. I was so proud of Ivy and how she handled herself. While there were times that she was a bit frustrating, and I wanted her to just move on from the concluding events of the previous novel, I also recognized that an ordinary person wouldn't be able to just "get over" what she went through. This is why I was a bit more forgiving of these scenes. Regardless, Ivy finds her inner strength and blossoms in this novel. She breaks free of that mold that her father and sister (and society itself) set her into, and became her own person. Ivy realized that she had the power all along, and it was nice to witness this growth over the course of the novel.
Obviously, there was going to be a reunion with Bishop...I pretty much think all fans knew this would happen. I just didn't expect it in the way that it happened. However, I was so happy when Bishop came back into the story, as Ivy and Bishop have such a great chemistry, and this was one of the aspects of the first novel that made me love the story so much more. They work well together, and while they faced a bit of a stumble in the beginning when they were reunited, they soon found that groove again, and the rest of their scenes were pure magic. While their romance was part of the story, it didn't overshadow the underlying plot line, which was much appreciated.
There are several new characters introduced, and I honestly loved their addition to the story. At first I was a bit worried that Ms. Engel was going to introduce a love triangle with one of the new characters, but was extremely relieved when this didn't happen. Whereas some authors might have taken this route, this story was never about the love story, and I am so thankful that Ms. Engel didn't introduce that aspect into the story. Some fans might not like the ending as, I will admit, everything is wrapped up nice and tidy. However, I thought the conclusion was a satisfying end to Ivy and Bishop's story. I thought how everything played out was realistic and (in a way) what I expected to happen. While I did think the ending was a bit fast, and I felt a little more time could have been spent on the conclusion, I was happy with the ending. Bishop and Ivy got their wish, and I couldn't be happier with the ending scene.
Overall, I would definitely recommend this to fans of the first novel. This was a strong sequel and finale to The Book of Ivy duology, and fans will not want to miss out to see how Ivy and Bishop's story ends.