Waiting on Wednesday is a weekly event that is hosted by Ji
ll at

Breaking the Spine

a

nd spotlights upcoming releases that we're eagerly anticipating.
Jocelyn's Waiting On:

The Girl from Everywhere: Heidi Heilig
Publication Date: February 16th, 2016
Synopsis:
Heidi Heilig's debut teen fantasy sweeps from modern-day New York City to nineteenth-century Hawaii to places of myth and legend. Sixteen-year-old Nix has sailed across the globe and through centuries aboard her time-traveling father's ship. But when he gambles with her very existence, it all may be about to end.
The Girl from Everywhere
, the first of two books, will dazzle readers of Sabaa Tahir, Rae Carson, and Rachel Hartman.
Nix's life began in Honolulu in 1868. Since then she has traveled to mythic Scandinavia, a land from the tales of One Thousand and One Nights, modern-day New York City, and many more places both real and imagined. As long as he has a map, Nix's father can sail his ship, The Temptation, to any place, any time. But now he's uncovered the one map he's always sought—1868 Honolulu, before Nix's mother died in childbirth. Nix's life—her entire existence—is at stake. No one knows what will happen if her father changes the past. It could erase Nix's future, her dreams, her adventures . . . her connection with the charming Persian thief, Kash, who's been part of their crew for two years. If Nix helps her father reunite with the love of his life, it will cost her her own.
Dazzle readers of Sabaa Tahir? Well, I'm definitely a reader of Sabaa Tahir. She's one of my favorite authors! I think this looks pretty amazing mostly because of the historical fiction portion and like I've been saying in previous Waiting on Wednesday's but I'm really glad that YA has been publishing more and more historical fiction novels lately!
Cassie's Waiting On:
T
itans by Victoria Scott
Publication Date: February 23, 201

6
Syn

opsis: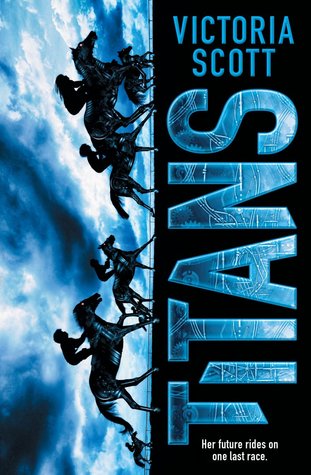 Ever since the Titans first appeared in her Detroit neighborhood, Astrid Sullivan's world has revolved around the mechanical horses. She and her best friend have spent countless hours watching them and their jockeys practice on the track. It's not just the thrill of the race. It's the engineering of the horses and the way they're programmed to seem so lifelike. The Titans are everything that fascinates Astrid, and nothing she'll ever touch.

She hates them a little, too. Her dad lost everything betting on the Titans. And the races are a reminder of the gap between the rich jockeys who can afford the expensive machines to ride, and the working class friends and neighbors of Astrid's who wager on them.

But when Astrid's offered a chance to enter an early model Titan in this year's derby, well, she decides to risk it all. Because for a girl from the wrong side of the tracks, it's more than a chance at fame or money. Betting on herself is the only way she can see to hang on to everyone in the world she cares about.
I can't even begin to tell you how much I am excited for this book from Victoria Scott. She has always amazed me with her books, and this is sure to be yet another edge-of-your-seat hit from her. The cover makes me even more intrigued because her covers always represent the book so well. I can't wait to get this one in my h

ands!