Waiting on Wednesday is a weekly event that is hosted by Ji
ll at

Breaking the Spine

a

nd spotlights upcoming releases that we're eagerly anticipating.
Jocelyn's Waiting On:
Arrows: Melissa Gorzelanczyk
Publication Date: January 5th, 2016
Synopsis:
A modern cupid story set in present-day Wisconsin combining the fantastical elements of Greek mythology with the contemporary drama of MTV's Teen Mom.
People don't understand love. If they did, they'd get why dance prodigy Karma Clark just can't say goodbye to her boyfriend, Danny. No matter what he says or does or how he hurts her, she can't stay angry with him . . . and can't stop loving him. But there's a reason why Karma is helpless to break things off: she's been shot with a love arrow.
Aaryn, son of Cupid, was supposed to shoot both Karma
and
Danny but found out too late that the other arrow in his pack was useless. And with that, Karma's life changed forever. One pregnancy confirmed. One ballet scholarship lost. And dream after dream tossed to the wind.
A clueless Karma doesn't know that her toxic relationship is Aaryn's fault . . . but he's going to get a chance to make things right. He's here to convince Danny to man up and be there for Karma. But what if this god from Mount Olympus finds himself falling in love with a beautiful dancer from Wisconsin who can never love him in return?
Greek mythology plus contemporary drama?! Isn't that enough to have anyone hooked?! This story looks amazing and it's been a long time that I've read anything with greek mythology so I'd say it's about due time!
Cassie's Waiting On:
November

9

by Colleen Hoover
Publication Date: November 10, 2015
Synopsis

: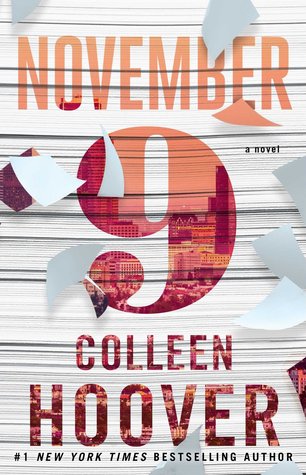 Fallon meets Ben, an aspiring novelist, the day before her scheduled cross-country move. Their untimely attraction leads them to spend Fallon's last day in L.A. together, and her eventful life becomes the creative inspiration Ben has always sought for his novel. Over time and amidst the various relationships and tribulations of their own separate lives, they continue to meet on the same date every year. Until one day Fallon becomes unsure if Ben has been telling her the truth or fabricating a perfect reality for the sake of the ultimate plot twist.
It's no secret that I'm a huge Colleen Hoover fan, so this is a must read for me. I will literally read anything she writes, and this is said to be her best yet! I've read some early reviews, and it seems like I migh

t be crying like I usually do with her books. Bring on the tissues!