Waiting on Wednesday is a weekly event that is hosted by Ji
ll at

Breaking the Spine

a

nd spotlights upcoming releases that we're eagerly anticipating.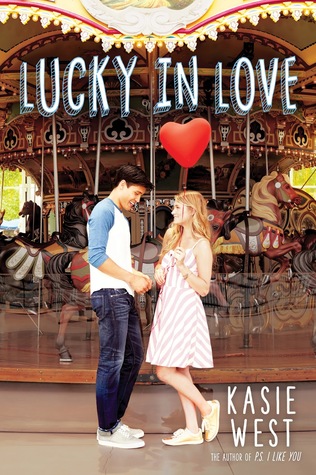 Cassie's Waiting On:
Lucky in Love by Kasie West
Publication Date: July 25, 2017
Synopsis:
In this new contemporary from YA star Kasie West, a girl who wins the lottery learns that money can cause more problems than it solves, especially when love comes into the picture.

Maddie doesn't believe in luck. She's all about hard work and planning ahead. But one night, on a whim, she buys a lottery ticket. And then, to her astonishment -- She wins!

In a flash, Maddie's life is unrecognizable. No more stressing about college scholarships. Suddenly, she's talking about renting a yacht. And being in the spotlight at school is fun... until rumors start flying, and random people ask her for loans. Now, Maddie isn't sure who she can trust.

Except for Seth Nguyen, her funny, charming coworker at the local zoo. Seth doesn't seem aware of Maddie's big news. And, for some reason, she doesn't want to tell him. But what will happen if he learns her secret?

With tons of humor and heart, Kasie West delivers a million-dollar tale of winning, losing, and falling in love.
Kasie West hasn't disappointed me yet, so I'm hoping this one will be another win from her! I usually enjoy the quick, sweet romances that she writes about, and Lucky in Love is already promising just that! Plus, it's featuring a zoo...you gotta love that! Can't wait to check this one out.
Jocelyn's Waiting On:
Black Bird of the Gallows by Meg Kassel
Publication Date: September 5th, 2017


Synopsis:
A simple but forgotten truth: Where harbingers of death appear, the morgues will soon be full.
Angie Dovage can tell there's more to Reece Fernandez than just the tall, brooding athlete who has her classmates swooning, but she can't imagine his presence signals a tragedy that will devastate her small town. When something supernatural tries to attack her, Angie is thrown into a battle between good and evil she never saw coming. Right in the center of it is Reece—and he's not human.
What's more, she knows something most don't. That the secrets her town holds could kill them all. But that's only half as dangerous as falling in love with a harbinger of death.
I know that paranormal novels have kind of fallen by thew wayside the past few years - and it makes me so SAD! I just love paranormal novels so much when they are done right so I REALLY hope I have a new favorite paranormal with Black Bird of the Gallows!