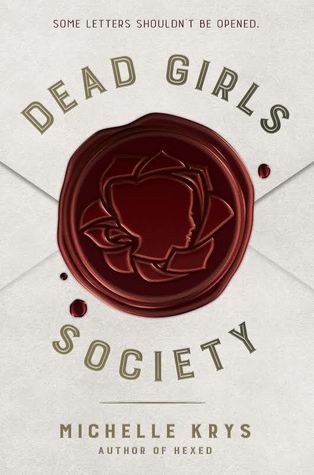 About the Book:
Title: Dead Girls Society
Author: Michelle Krys
Pub. Date: November 8, 2016
Publisher: Delacorte Press
Pages: 304
Rating: 3.5/5 stars
You are cordially invited to participate in a game of thrills and dares. Tell no one, and come alone. If you dare.

Hope is sick of everyone treating her like she's breakable. Sure, she has cystic fibrosis (basically really bad lungs), but she's tired of being babied by her mom and her overprotective best friend, Ethan, not to mention worrying about paying for her expensive medication and how she's going to afford college. And she's bored with life in her run-down New Orleans suburb.

When an invitation arrives from a mysterious group that calls itself the Society, Hope jumps at the chance for some excitement. This could be her ticket out. All she has to do is complete a few dares and she might win some real money.

But the Society isn't all it seems . . . and soon Hope finds that playing the game isn't a choice—it's a requirement.
This is the first book I have read by Michelle Krys, and I was pretty impressed. Overall, the story is a fast-paced adventure/mystery that is pretty intense. I didn't actually expect this book to get as dark as it did, but I'm happy that this was the direction the book went in as I think it really pushed the book almost into the 4 star range for me. Ms. Krys' writing style was perfect for this type of story, and it made the book that much more enjoyable. I definitely would recommend checking out this book if you want a quick, mystery read or are a fan of Michelle Krys.
The plot as I said was much more intense than I originally expected. When I first picked up this book, I was totally sure what to expect story-wise, but I knew I was intrigued enough by the plot to find out! The whole mystery of who is behind the Society really drove the plot and I did manage to figure out who was behind it before the character was revealed. There were a lot of crazy and heart-pounding moments that I never saw coming and I was definitely on the edge of my seat with certain parts. There was a bit of romance involved, and I actually didn't mind it in the story since it's very much in the background. However, that being said, was it absolutely necessary...no. I will say that sometimes the dares seemed a little pointless, but everything makes sense in the end.
The characters were very diverse, but not as developed as I had hoped they would be. Hope is an excellent character and Ms. Krys does a great job at fleshing her character out. But she didn't give that same attention to the other girls and I was really hoping she would. Would it have made the story longer, sure...but it would have added more depth to the story and I might have actually given this book a higher rating.
The major problem I had with this book was the ending. It was annoying and pretty infuriating, especially because to the best of my knowledge this is a once-and-done book. There isn't a sequel planned. And I hate when there's no true resolution in a standalone book. I know some people don't mind it, but this girl right here hates when that happens. Now if there is another book, I would be perfectly fine with the ending. But as it stands right now, it made me go to 3.5 stars instead of a full 4 stars.
All in all,
Dead Girls Society
is a quick, mysterious read that will leave you on the edge of your seat. Ms. Krys' writing is simple but has a creepy quality that fits this type of story perfectly. The story was fast-paced and exciting at times. The ultimate downfall for me was the ending, but I still think that plenty of fans will enjoy this book as much as I did!
Happy reading :)