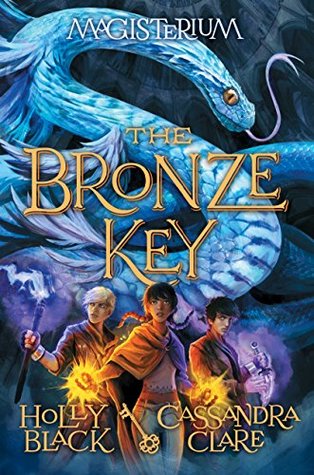 About the Book:
Title: The Bronze Key (Magisterium #3)
Author: Holly Black & Cassandra Clare
Pub. Date: Aug. 30, 2016
Publisher: Scholastic
Pages: 256
Rating: 4/5 stars
Magic can save you.
Magic can kill you.

Students at the Magisterium are supposed to be safe. Under the watchful eyes of the mages, they are taught to use magic to bring order to a chaotic world.

But now the chaos is fighting back. Call, Tamara, and Aaron should be worrying about things like pop quizzes and magic contests. Instead, after the shocking death of one of their classmates, they must track down a sinister killer… and risk their own lives in the process.

As Call, Tamara, and Aaron discover, magic can only be as good as the person who wields it. In evil hands, it has the capacity to do immeasurable harm, unless it is stopped in time.

In this striking third book of Magisterium, bestselling authors Holly Black and Cassandra Clare present us with a school where anything, good or evil, can happen, and the only way to unlock the truth is to risk everything to find it.
Cassandra Clare and Holly Black have done it again, and delivered an excellent story that is filled with action and adventure, plus an ending that certainly pack a punch! I seriously don't know how I'm going to wait another year for the next book because that ending gutted me. But that's what these authors do best, make us feel all the feels and then rip them out from under us so that we're nothing but piles of tears after reading. I won't spoil anything, but if you're a fan of the series, you're definitely in for the shock of your life in the ending scenes. Nevertheless, this book truly has it all, and I can't wait for the next in the series.
The writing is pure gold and both authors did a fantastic job at reminding us of the events of the previous books without bogging down the story at hand. We get a quick recap...just enough to pull you back into the story...and then we plunge right into the current lives of the characters. I was instantly swept away in the story, and I'm glad that we're really getting into the story now. I thought the last book was a little slow and more of a filler book than anything, so I was happy that once I started reading
The Bronze Key
, the story was finally beginning to move along and make progress. We're starting to see how the past is very much affecting the future, and we're finally delving deeper into Constantine's story. There were many shocking moments that I never saw coming, and the search for the traitor allowed for the story to have great pacing. I'll definitely say that I was surprised when the traitor was revealed because I didn't see it coming at all. There were many other people that I was suspecting over the actual traitor, and in many ways that made the reveal that much more heartbreaking. I'm very interested to see how the new "villain" will affect future books and the direction of the story. Both Cassie Clare and Holly Black have set up a intriguing way for the story to progress and I'm excited to see just how they pull this off.
The characters are wonderful as ever. Call and Aaron are so great together and I love how both Holly Black and Cassie Clare truly showcase their "counterweight" destinies throughout the book. Aaron is the golden boy who will save the day, while Call is the Enemy of Death. The prophecy has always been there in the back of my mind, but I never expected things to start coming to fruition so early on in the series. There were many aspects of the story that I didn't see coming in regards to the characters. These characters now have a special place in my heart and I just want to wrap them up and protect them from all things. I knew that certain characters would play a much bigger role than we expected, but not in the ways they actually are! Tamara is absolutely lovely (as always) in this book. Her dedication to her friends is the best and so admirable. Every person deserves a friend like Tamara. I will say that the love triangle has been set up in this book, and I'm wondering how this will all work out due to the events at the end of the story. Finally, Jasper is an absolute thrill to have in this series. I love his sense of humor and he adds some levity to the otherwise serious and dark nature of the book. He's still a very mysterious character though, and I am desperate to learn more about his past, as well as certain things about his father.
Overall, this is an absolutely thrilling addition to the Magisterium series, and I can't wait to read more. The series just getting started, and I can't wait to see where the authors take the story now that they delivered some devastating blows (to both readers and the characters alike). Even though this is a MG series, I am greatly enjoying it, and I think many adults will too. There's plenty of magic and mystery for YA/adults to love, and it's a quick read that sweeps you away to another place for a little while. What's not to love? Definitely check this one out as soon as possible.