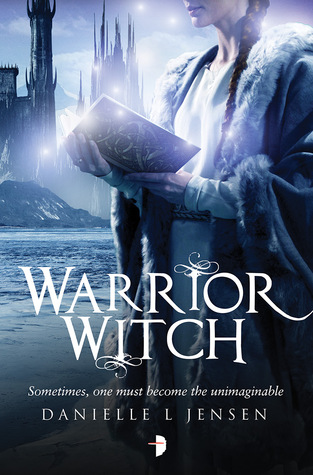 About the Book:
Title: Warrior Witch (Malediction Trilogy #3)
Author: Danielle L. Jensen
Pub. Date: May 3, 2016
Publisher: Angry Robot
Pages: 384
Rating: 4/5 stars
The thrilling conclusion to the breakout Malediction Trilogy by Goodreads Choice finalist Danielle L. Jensen.
Cécile and Tristan have accomplished the impossible, but their greatest challenge remains: defeating the evil they have unleashed upon the world.
As they scramble for a way to protect the people of the Isle and liberate the trolls from their tyrant king, Cécile and Tristan must battle those who'd see them dead. To win, they will risk everything. And everyone.
But it might not be enough. Both Cécile and Tristan have debts, and they will be forced to pay them at a cost far greater than they had ever imagined.
I'm incredibly sad to see this wonderful series come to an end. While I had my ups and downs with this book, I still felt that overall this was a satisfying conclusion to the Malediction Trilogy. Was it everything I hope for? Not really. But, Danielle Jensen still delivered a great story that will appease many fans of the series. I was actually surprised to see so many low-star reviews because even though this wasn't as good as the previous books, it was still a great book! I don't want to discourage any fan from reading this novel because this truly was a gorgeously written story.
I honestly didn't want to reach the end because I knew that once I did, Tristan and Cecile's story would be over forever. And when I did reach the last couple of chapters, I was borderline a mess and my emotions were going crazy. Overall, the story came together in nicely, with plenty of twists and turns that you won't see coming. The were many scenes that had me on the edge of my seat because I wasn't sure what was going to happen. I was preparing for the worst sometimes as there were many times I was unsure if everyone would make it out alive. I did like the use of alternating POVs, and I think it made the book stronger. I liked being able to read from Tristan's perspective and see just how his mind worked as it is markedly different from Cecile, but the same in so many ways. It just goes to show how well matched they are for each other.
As I have hinted at, there were several things that didn't make this the epic conclusion that it could/should have been. I honestly didn't like the fact that Cecile and Tristan spent the majority of this book apart...again. I thought that after the events in
Hidden Huntress
, Tristan and Cecile would join together and work as a team toward the common goal of defeating the enemy. But this was more or less Tristan and Cecile doing their own individual thing and somehow, things magically came together. Cecile did drive me a little crazy in this one purely because I thought she made some very stupid (even borderline stupid) decisions. Yes, Cecile did blame herself frequently if something didn't turn out the way she expected, but I didn't feel that much sympathy for her when even I could have told you Cecile's choice was going to end in disaster. Additionally, some scenes felt incredibly rushed and a bit disorganized. For the most part though, the story flowed very well, so this problem was relatively minor in relation to the entire story. But, some scenes just didn't have that same effortless flow that occurred in the previous novels, and this was especially prevalent toward the end of the book.
Regardless of these problems, I did enjoy the story overall, and I am incredibly sad that this series is over. While I wasn't entirely happy with the direction the ending took, I admire Danielle Jensen for taking a risk and ending the story in the way she thought was best. As readers, we have to remember that not every story has the happy ending we wish, but sometimes things do work out in the end...even if it's not in the way we would expect. I would recommend checking this out if you are a fan of the series. It might be a hit or a miss for fans but it is still worth reading!!