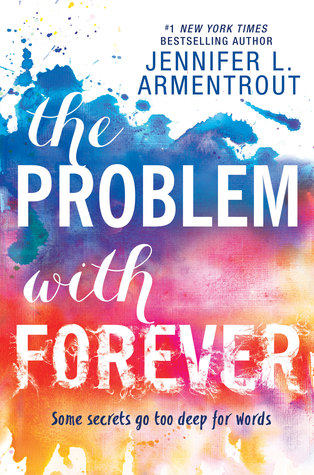 About the Book:
Title: The Problem With Forever
Author: Jennifer L. Armentrout
Pub. Date: May 17, 2016
Publisher: Harlequin Teen
Pages: 474
Rating: 5/5 stars
For some people, silence is a weapon. For Mallory "Mouse" Dodge, it's a shield. Growing up, she learned that the best way to survive was to say nothing. And even though it's been four years since her nightmare ended, she's beginning to worry that the fear that holds her back will last a lifetime.
Now, after years of homeschooling with loving adoptive parents, Mallory must face a new milestone—spending her senior year at public high school. But of all the terrifying and exhilarating scenarios she's imagined, there's one she never dreamed of—that she'd run into Rider Stark, the friend and protector she hasn't seen since childhood, on her very first day.
It doesn't take long for Mallory to realize that the connection she shared with Rider never really faded. Yet the deeper their bond grows, the more it becomes apparent that she's not the only one grappling with the lingering scars from the past. And as she watches Rider's life spiral out of control, Mallory faces a choice between staying silent and speaking out—for the people she loves, the life she wants, and the truths that need to be heard.
"Forever was something we all took for granted, but the problem with forever was that it really didn't exist."
The problem with this book is that it's so perfect I literally have no words to describe how much I loved this story. This is one of those books that just sticks with you; one in which everyone can take away something different from the beautiful words that make up the story. Emotionally charged and heartfelt,
The Problem with Forever
will resonate with you long after you put the book down. The story is emotionally charged and full of eye-opening scenes that will make everyone stop and think about their own lives and how they're living it. Simply put, this book is magnificent and should be read by everyone.
"No one else. It was me who had to carry myself over the finish line, and all I needed to remember when I felt like not trying was that that feeling wouldn't last forever."
Mallory, aka Mouse, is our MC, and I absolutely loved her. I could relate to her in many ways, as I'm sure many readers will. Jen wrote every character in this book beautifully, but Mallory was truly the star. Her character development was utterly fantastic and one of the best I have ever read, and you root for her every step of the way. Mallory is one of those characters that you just want to give a giant hug to and be best friends with. It was almost like she knew that someone was reading her story and she used that support to blossom into the amazing young woman she is. I honestly couldn't get enough of her story and never wanted to stop reading. Every time I had to stop reading her story, I found myself thinking about what was going to happen and how everything would end up. I found myself 100% encompassed in Mallory's world.
"You're safe now," Rider said. "I here. You're safe, Mouse. And I know you might not believe it, but I'm going to keep you safe forever." He swallowed and swiped at his lip. "That's a promise."
I loved the relationship between Mallory and Rider. Their connection is strong, and their love for each other is stronger. However, don't worry because there's no insta-love. Rider and Mallory have a unique bond that allows for their relationship to develop at a natural pace. Having been friends growing up and reconnecting years later, the two need to relearn about each other and discover how each has changed (or not changed) since their separation. This in itself was beautiful to witness and I loved watching their relationship grow and develop.
"We've been separated. But we had never really been apart."
I highly recommend reading this novel! You don't want to miss out on this heart-breaking and heartwarming story. You'll laugh, cry, and swoon over Rider. But most importantly, you'll be able to read an gorgeously written story that deals with overcoming obstacles that we can all relate to. Every single time I pick up a Jen Armentrout book there is no question as to whether or not I will love it. But this book will hold a special place in my heart. It reminded me that you need to get out of your comfort zone and push yourself because you don't want to box yourself in. You need to allow yourself to take chances and do things you might be afraid of because if you don't try...you never know if you will succeed. Even doing minor things that might not seem big to anyone else can lead to amazing things down the road...you just have to open yourself up to it. Thank you Jen for giving all of us this amazing book!
One final quote before you go:
"It was all about trying, and that was what I would do. I would try."