About the Book: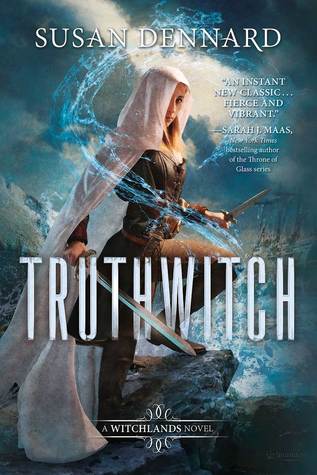 Title:
Truthwitch (The Witchlands, #1)
Author: Susan Dennard
Pub. Date: January 5, 2016
Publisher: Tor Teen
Pages: 416
Genre: Fantasy, Young Adult, Magic, Witches
Rating: 4.5/5 stars
In a continent on the edge of war, two witches hold its fate in their hands.

Young witches Safiya and Iseult have a habit of finding trouble. After clashing with a powerful Guildmaster and his ruthless Bloodwitch bodyguard, the friends are forced to flee their home.

Safi must avoid capture at all costs as she's a rare Truthwitch, able to discern truth from lies. Many would kill for her magic, so Safi must keep it hidden - lest she be used in the struggle between empires. And Iseult's true powers are hidden even from herself.

In a chance encounter at Court, Safi meets Prince Merik and makes him a reluctant ally. However, his help may not slow down the Bloodwitch now hot on the girls' heels. All Safi and Iseult want is their freedom, but danger lies ahead. With war coming, treaties breaking and a magical contagion sweeping the land, the friends will have to fight emperors and mercenaries alike. For some will stop at nothing to get their hands on a Truthwitch.
Review:


Susan Dennard has done it again everybody and created an amazing novel that will blow you away! This novel has been one of my most anticipated releases of 2016, and it exceeded my expectations in every single way. I was enthralled by every single scene, and Susan Dennard created such a unique world that you never want to leave! With strong female leads, a ton of action, and epic adventures, you will
not
be disappointed with this novel! Plus, it comes recommended from another one of my favorite authors (also one of this author's best friends) so you know it's good ;)
"I hate this. Both the storm and the plan. Why does it have to be 'we'? Why not just me?"
"Because 'just me' isn't who we are," Iseult hollered back. "I'll always follow you, Safi, and you'll always follow me. Threadsisters to the end."
The characters were easily one of my favorite parts of reading in this novel. Even though this book is written in 3rd person, it certainly doesn't detract from connecting to each of the characters. Both Safiya and Iseult are some of the best female leads I have ever read. Not only do they have a fierce, strong friendship, but they work so well together. They fill in where the other lacks, and have the same mindset. Safiya and Iseult are Threadsisters through and through, and know exactly how the other operates. They use this to their advantage many times and it is simply amazing to read. Both women are very passionate and hilarious as well. Honestly, they kind of reminded me of my best friend and myself! Nevertheless, both Safiya and Iseult are also very independent and aren't reliant on the other at all times. They can fight their own battles if necessary, but when they fight together, it's pure magic.
We also are treated to the perspective of Merik, a prince/ship captain, and Aeduan, an assassin. Both of these male leads were equally as strong as the females in this novel. Merik had my heart immediately. He is brave, and willing to go to great lengths to bring his country back to the glory and beauty it once was. The chemistry between Merik and Safiya is truly something else! You can feel the tension between them rippling off the pages, and I was constantly on edge waiting for them to
finally
take the plunge and get together!! As it seems right now, Aeduan and Iseult have a (what seems) a destiny as a couple. You'll see what I mean by this when you read this book, but by the end, it seems obvious that they will get together at some point...but that could just be wishful thinking on my part! I definitely want to know more about Aeduan because this guy is dark, and I am eager to know just how he got that way. I am so excited to see more from all of these characters, I can't even begin to tell you how much!
"If you wanted to, Safiya, you could bend and shape the world."
Ultimately though, this novel is about the power of friendship and how that friendship might be the key to everything. The entire world that Susan Dennard has developed is so intriguing and unique. It is clear that she put in a lot of dedication to crafting this world, and I loved all of the details she provided so that we could have a better understanding of this new world. I do wish we had a bit more information about each "type" of witch, as it can be confusing at times. However, I was able to follow it easily enough, and wasn't that confused while reading. Every scene is richly described, and Susan Dennard has truly grown as an author. I have been a fan of hers since I read
Something Strange and Deadly
, but this novel showcases her extreme talent as an author. I highly recommend checking out this new fantasy novel! It's a great way to start off your 2016!
Happy reading :)
~Cassie