Waiting on Wednesday is a weekly event that is hosted by Ji
ll at

Breaking the Spine

a

nd spotlights upcoming releases that we're eagerly anticipating.
Jocelyn's Waiting On:

The Last Star (The 5th Wave, #3) : Rick Yancey
Publication Date: May 24th, 2016
Synopsis:
We're here, then we're gone, and that was true before they came. That's always been true. The Others didn't invent death; they just perfected it. Gave death a face to put back in our face, because they knew that was the only way to crush us. It won't end on any continent or ocean, no mountain or plain, jungle or desert. It will end where it began, where it had been from the beginning, on the battlefield of the last beating human heart.

Master storyteller Rick Yancey invokes triumph, loss, and unrelenting action as the fate of the planet is decided in the conclusion to this epic series.
Even though I wasn't a fan of The Infinite Sea, which was the second book in the trilogy, I have high hopes for the last book. I'm hoping for more of Cassie's point of view instead of Ringer's. And I'm also excited to see how things end up for everyone, especially since Rick said he isn't afraid to kill his MC's.
Why do I have a gut feeling that Evan is going to die? :(
Paper and Fire (The Great Library #2) by Rachel Caine
Publication D

ate: July 5, 2016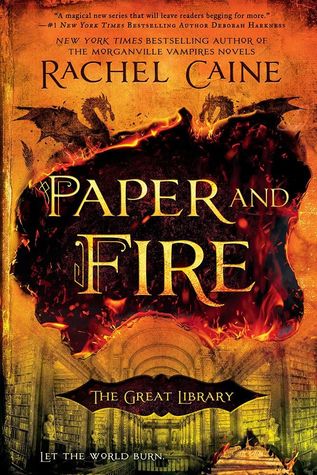 With an iron fist, The Great Library controls the knowledge of the world, ruthlessly stamping out all rebellion, forbidding the personal ownership of books in the name of the greater good.
Jess Brightwell has survived his introduction to the sinister, seductive world of the Library, but serving in its army is nothing like he envisioned. His life and the lives of those he cares for have been altered forever. His best friend is lost, and Morgan, the girl he loves, is locked away in the Iron Tower and doomed to a life apart.
Embarking on a mission to save one of their own, Jess and his band of allies make one wrong move and suddenly find themselves hunted by the Library's deadly automata and forced to flee Alexandria, all the way to London.
But Jess's home isn't safe anymore. The Welsh army is coming, London is burning, and soon, Jess must choose between his friends, his family, or the Library willing to sacrifice anything and anyone in the search for ultimate control…
I greatly enjoyed the first book in this series, Ink and Bone, so I have high hopes for this sequel! Rachel Caine created an exciting world, and I hope to learn even more about it in this novel. I can't wait to see where she takes the story because I have no idea what to expect!