Waiting on Wednesday is a weekly event that is hosted by Ji
ll at

Breaking the Spine

a

nd spotlights upcoming releases that we're eagerly anticipating.
Jocelyn's Waiting On:

Whatever. : Suzanne Cudd Goslee
Publication Date: August 2nd, 2016


Synopsis:
Hilarity ensues when a slacker teen boy discovers he's gay, in this unforgettably funny YA debut.
Mike Tate is a normal dude. He and his friends have a crappy band (an excuse to drink cheap beer and rock out to the Lemonheads) and hang out in parking lots doing stupid board tricks. But when Mike's girlfriend Lisa, who knows him better than he does, breaks up with him, he realizes he's about to have a major epiphany that will blow his mind. And worse--he gets elected to homecoming court.
It's like the apocalypse came, only instead of nuclear bombs and zombies, Mike gets school participation, gay thoughts, and mother-effin' cheerleaders.
This book sounds like so much fun. I've never read anything but Suzanne Cudd Goslee, but I'm always excited to give new authors a try and I'm most definitely always up for a funny contemporary.
The Vanishing Throne (The Falconer #2) by Elizabeth May
Publication Date: June 7, 2016
Synopsis: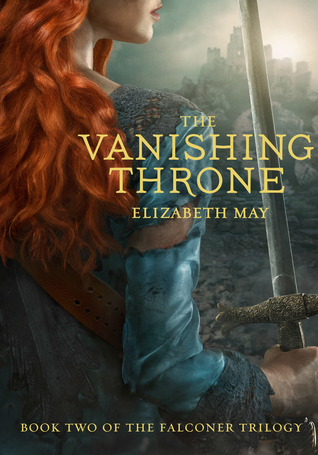 Aileana Kameron, the Falconer, disappeared through the portal that she was trying to close forever. Now she wakes up in the fae world, trapped and tortured by the evil Lonnrach. With the help of an unexpected ally, Aileana re-enters the human world, only to find everything irrevocably changed. Edinburgh has been destroyed, and the few human survivors are living in an uneasy truce with the fae, while both worlds are in danger of disappearing altogether. Aileana holds the key to saving both worlds, but in order to do so she must awaken her latent Falconer powers. And the price of doing that might be her life.
I have been waiting for this novel for 3 years now (yes, the wait has been unbearable!) but it is worth every second because I know Elizabeth May will deliver another amazing adventure and sweep me off my feet once again. I absolutely loved the first book in this series, and if you are into fantasy, you need to read this series!