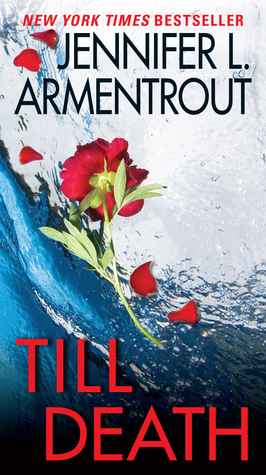 About the Book:
Title: Till Death
Author: Jennifer L. Armentrout
Pub. Date: February 28, 2017
Publisher: William Marrow
Pages: 400
Rating: 5/5 stars
It's been ten years since Sasha Keaton left her West Virginia hometown . . . since she escaped the twisted serial killer known as the Groom. Returning to help run her family inn means being whole again, except for one missing piece. The piece that falls into place when Sasha's threatened—and FBI agent Cole Landis vows to protect her the way he couldn't a decade ago.
First one woman disappears; then another, and all the while, disturbing calling cards are left for the sole survivor of the Groom's reign of terror. Cole's never forgiven himself for not being there when Sasha was taken, but he intends to make up for it now . . . because under the quirky sexiness Cole first fell for is a steely strength that only makes him love Sasha more.
But someone is watching. Waiting. And Sasha's first mistake could be her last.
Till Death
is yet another absolutely amazing read from Jen Armentrout! I will never stop loving JLA, and with every book, her writing gets better and better! She is such an incredibly versatile author, and it makes her stories even more exciting every time you sit down and read one of her novels. I didn't even have to read the synopsis to know that I was going to read this book, but after I did, I was immediately intrigued. And that's the beauty of this book...there is a lot of intrigue and suspense and you are always on the edge of your seat. JLA does what she does best, and keeps you guessing until the end. She is one of the few authors that can still surprise me, which is something I adore!
All we know when the story starts is that something terrible happened to Sasha, but we don't know what exactly. We know it involves "The Groom" and that Sasha somehow managed to survive this serial killer, but we don't know specifics. I loved that Jen did this because it built the suspense even more. It kept me reading because I
had
to know what happened to Sasha. I personally loved Sasha as the main character. She was so strong and brave, yet kind and selfless. Even though what happened with "The Groom" happened 10 years ago, Sasha is still coping with everything that happened...especially when new "surprises" keep coming into her life reminding her of that terrible time. I liked that Sasha could defend herself. She knew how to handle herself and wasn't a damsel in distress type.
Now, this review wouldn't be complete without talking about Cole. Lordy be...that man is like sex on a stick. Can you tell I liked his character? He was the
perfect
hero and perfect balance to Sasha's character. I loved how protective he was of her, yet he still let her do her thing. Cole was everything you could want in a man, and I loved the chasing Sasha made Cole do before she let him back into her life.
The plot was absolutely fantastic! I loved how everything was revealed slowly over the course of the story, and it was a true mystery from start to finish. It was fun to slowly put the pieces together and try to pick up on clues throughout the story. I definitely didn't figure it out though, which is always refreshing. There are some major twists and turns that will leave your head spinning and keep you guessing until the end.
I highly recommend this book to everyone if you are a fan of these types of books. With just the right mix of suspense and romance, this is the perfect read to end your summer!