Waiting on Wednesday is a weekly event that is hosted by Ji
ll at

Breaking the Spine

a

nd spotlights upcoming releases that we're eagerly anticipating.
Cassie's Waiting On:
Before She Ignites (Fallen Isles Trilogy #1) by Jodie Meadows
Publication Date: September 12th, 2017
Synopsis: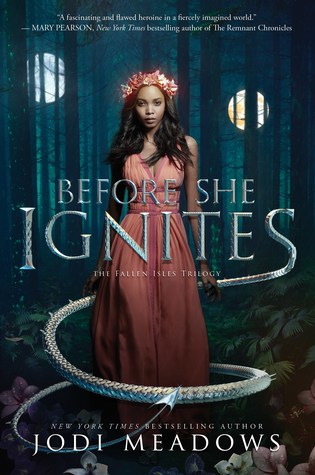 Before
Mira Minkoba is the Hopebearer. Since the day she was born, she's been told she's special. Important. Perfect. She's known across the Fallen Isles not just for her beauty, but for the Mira Treaty named after her, a peace agreement which united the seven islands against their enemies on the mainland.
But Mira has never felt as perfect as everyone says. She counts compulsively. She struggles with crippling anxiety. And she's far too interested in dragons for a girl of her station.
After
Then Mira discovers an explosive secret that challenges everything she and the Treaty stand for. Betrayed by the very people she spent her life serving, Mira is sentenced to the Pit–the deadliest prison in the Fallen Isles. There, a cruel guard would do anything to discover the secret she would die to protect.
No longer beholden to those who betrayed her, Mira must learn to survive on her own and unearth the dark truths about the Fallen Isles–and herself–before her very world begins to collapse.
This sounds absolutely fantastic!! Honestly if you just mention dragons in the synopsis, I going to be excited. I have read from Ms. Meadows before, so I know that her world-building is amazing and that she knows how to tell a great and exciting story. The cover is gorgeous as well. Hopefully I'll have a new series to be excited for!
Jocelyn's Waiting On:
The Grave Keepers by Elizabeth Byrne
Publication Date: September 12th, 2017
Synopsis:
Lately, Athena Windham has been spending all her spare time in her grave.
Her parents—owners of a cemetery in Upstate New York—are proud of her devoutness, but her younger sister, Laurel, would rather spend her time exploring the forest that surrounds the Windham's' property than in her own grave.
The Windham girls lead secluded lives—their older sister died in a tragic accident and their parents' protectiveness has made the family semi-infamous.
As the new school year begins, the outside world comes creeping in through encounters with mean girls, a new friend, and a runaway boy hiding out in the cemetery. Meanwhile, a ghost hangs around the Windham property—the only grave keeper never to cross over—plotting how to keep the sisters close to home and close to her . . . forever.
I love paranormal novels, but lately it just seems like they have kind of fallen by the wayside as fantasy takes on a bigger role. I can't wait to see Ms. Byrne's takes on ghosts, especially so close to Halloween. I hope this becomes a staple spooky book to read around fall!