Waiting on Wednesday is a weekly event that is hosted by Ji
ll at

Breaking the Spine

a

nd spotlights upcoming releases that we're eagerly anticipating.
Jocelyn's Waiting On:

Scythe: Neal Shusterman
Publication Date: November 29th, 2016


Synopsis:
Two teens are forced to murder—maybe each other—in the first in a chilling new series from Neal Shusterman, author of the
New York Times
bestselling Unwind dystology.
In a world where disease has been eliminated, the only way to die is to be randomly killed ("gleaned") by professional reapers ("scythes"). Citra and Rowan are teenagers who have been selected to be scythe's apprentices, and—despite wanting nothing to do with the vocation—they must learn the art of killing and come to understand the necessity of what they do.
Only one of them will be chosen as a scythe's apprentice. And when it becomes clear that the winning apprentice's first task will be to glean the loser, Citra and Rowan are pitted against one another in a fight for their lives.
Neal Shusterman's book Unwind was one of the first books that I read that got me into reading. It came out the exact same time as The Hunger Games, and I honestly don't remember which one I read first. Fast forward to today, last spring his standalone Challenger Deep about mental health easily became one of my favorite books of all time. With that being said, I will read anything Neal Shusterman writes... and I hope you give some of his books a chance too!
United (Alienated #3) by Melissa Landers
Publication Date: August 2, 2016
Synopsis: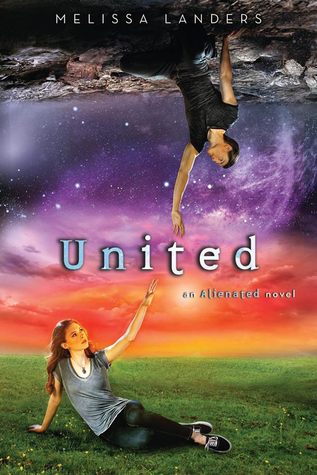 After thwarting a deadly coup and saving the alliance between their worlds, Cara and Aelyx have finally earned a break. Their tiny island colony is everything they dreamed it would be―days spent gathering shells on the beach and nights in each other's arms.
But the vacation is short-lived.
The treaty between Earth and L'eihr has awakened an ancient force that threatens to destroy them all. The Aribol, mysterious guardians charged with maintaining interstellar peace, deem the alliance a threat to the galaxy. They order a separation of the races, decreeing humans and L'eihrs must return to their own planets within the month or face extinction. In fact, they already have agents in place on Earth, ready to begin.
With the clock ticking, Aelyx and Cara assemble a team of colonists and race back to Earth, where they unite with old friends to solve the mystery of who the Aribol are, what they want, and the real reason the alliance has provoked them. As tensions build to a full-scale war, Aelyx and Cara must fight harder than ever―not just for their future, but for the survival of both their worlds.
For a little bit fans of this series (including myself) were worried that we might not get a 3rd, and final, book in this series. The last ended on a fine note, where I could accept the ending and just make up what happened in the future. But nothing makes me happier than knowing that we will be getting a conclusion to this series!! I'm so excited for this and I know that this will be a fantastic ending to this series :)