Waiting on Wednesday is a weekly event that is hosted by Ji
ll at

Breaking the Spine

a

nd spotlights upcoming releases that we're eagerly anticipating.
Cassie's Waiting On:
Even the Darkest Stars (Even the Darkest Stars #1) by Heather Fawcett
Publication Date: September 5th, 2017
Synopsis: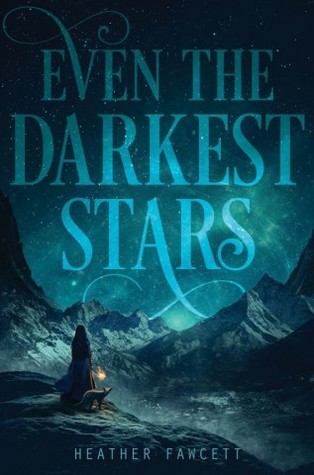 Kamzin has always dreamed of becoming one of the Emperor's royal explorers, the elite climbers tasked with mapping the wintry, mountainous Empire and spying on its enemies. She knows she could be the best in the world, if only someone would give her a chance.

But everything changes when the mysterious and eccentric River Shara, the greatest explorer ever known, arrives in her village and demands to hire Kamzin—not her older sister Lusha, as everyone had expected—for his next expedition. This is Kamzin's chance to prove herself—even though River's mission to retrieve a rare talisman for the emperor means climbing Raksha, the tallest and deadliest mountain in the Aryas. Then Lusha sets off on her own mission to Raksha with a rival explorer who is determined to best River, and Kamzin must decide what's most important to her: protecting her sister from the countless perils of the climb or beating her to the summit.

The challenges of climbing Raksha are unlike anything Kamzin expected—or prepared for—with avalanches, ice chasms, ghosts, and even worse at every turn. And as dark secrets are revealed, Kamzin must unravel the truth of their mission and of her companions—while surviving the deadliest climb she has ever faced.
This sounds like a fantastic start to a new series!! It's different and I've heard such great things about it so far. I'm preparing for an epic adventure in the icy, snow-covered mountains, and hoping that I'll have a new series to obsess over after I'm done!
Jocelyn's Waiting On:
The Store by James Patterson
Publication Date: August 24th, 2017
Synopsis:
The Store doesn't just want your money – it wants your soul.
Imagine a future of unparalleled convenience. A powerful retailer, The Store, can deliver anything to your door, anticipating the needs and desires you didn't even know you had.
Most people are fine with that, but not Jacob and Megan Brandeis. New York writers whose livelihood is on the brink of extinction, Jacob and Megan are going undercover to dig up The Store's secrets in a book that could change the entire American way of life. But after a series of unsettling discoveries, Jacob and Megan's worst fears about The Store seem like just the beginning.
Harbouring a secret that could get him killed, Jacob has to find a way to escape The Store's watchful eye and publish his expose – before the truth dies with him.
I fell in love with James Patterson's style of writing when I read his novel Cradle and All that was re-published last year. It was creepy and mysterious, I absolutely could not put it down. I was lucky enough to snag one of these copies at BEA this year, so I am just trying to make room in my schedule to read it (because I know once I start, I won't be able to stop). Have you ever read a James Patterson novel? Were you a fan?