Waiting on Wednesday is a weekly event that is hosted by Ji
ll at

Breaking the Spine

a

nd spotlights upcoming releases that we're eagerly anticipating.
Jocelyn's Waiting On:

Blood Rose Rebellion by Rosalyn Eves
Publication Date: March 28th, 2017


Synopsis:
Sixteen-year-old Anna Arden is barred from society by a defect of blood. Though her family is part of the Luminate, powerful users of magic, she is Barren, unable to perform the simplest spells. Anna would do anything to belong. But her fate takes another course when, after inadvertently breaking her sister's debutante spell—an important chance for a highborn young woman to show her prowess with magic—Anna finds herself exiled to her family's once powerful but now crumbling native Hungary.
Her life might well be over.
In Hungary, Anna discovers that nothing is quite as it seems. Not the people around her, from her aloof cousin Noémi to the fierce and handsome Romani Gábor. Not the society she's known all her life, for discontent with the Luminate is sweeping the land. And not her lack of magic. Isolated from the only world she cares about, Anna still can't seem to stop herself from breaking spells.
As rebellion spreads across the region, Anna's unique ability becomes the catalyst everyone is seeking. In the company of nobles, revolutionaries, and Romanies, Anna must choose: deny her unique power and cling to the life she's always wanted, or embrace her ability and change that world forever.
While I wasn't a huge fan of Red Queen, this seems a little less predictable. I love fantasy novels and I'm always willing to give them a try. I love that this is war-based and it seems to have a large family aspect, which is a huge plus to me! I might just have to pre-order this one!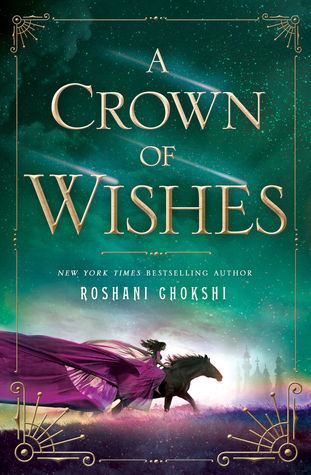 Cassie's Waiting On:
A Crown of Wishes (The Star-Touched Queen #2) by Roshani Chokshi
Publication Date: March 28, 2017
Synopsis:
Gauri, the princess of Bharata, has been taken as a prisoner of war by her kingdom's enemies. Faced with a future of exile and scorn, Gauri has nothing left to lose. Hope unexpectedly comes in the form of Vikram, the cunning prince of a neighboring land and her sworn enemy kingdom. Unsatisfied with becoming a mere puppet king, Vikram offers Gauri a chance to win back her kingdom in exchange for her battle prowess. Together, they'll have to set aside their differences and team up to win the Tournament of Wishes—a competition held in a mythical city where the Lord of Wealth promises a wish to the victor.

Reaching the tournament is just the beginning. Once they arrive, danger takes on new shapes: poisonous courtesans and mischievous story birds, a feast of fears and twisted fairy revels.

Every which way they turn new trials will test their wit and strength. But what Gauri and Vikram will soon discover is that there's nothing more dangerous than what they most desire.
I can't even tell you how excited I am for this book! Ms. Chokshi's first novel blew my mind and was brilliantly written so I can't even imagine how amazing this book will be. I know it probably sounds like my hopes are high, and that's because they are....but I have no doubts that Ms. Chokshi will deliver another novel that will sweep me away and stick with me long after I finish reading!