Welcome to Novels and Necklaces! We're super excited to be apart of the blog tour for
Wintersong
! I truly enjoyed this novel and I hope that you'll decide to check it out. S. Jae-Jones is definitely an author to watch, and I'm excited to have the opportunity to tell you all about her new book :) We would look to extend a special thank you to St. Martin's Griffin for letting us be apart of the blog tour! So without further ado...here's
Wintersong
!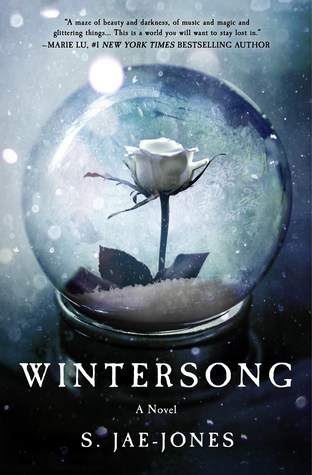 About the Book:
Title: Wintersong
Author: S. Jae. Jones
Pub. Date: February 7, 2017
Publisher: Thomas Dunne Book for St. Martin's Griffin
Pages: 448
Rating: 3.5/5 stars
Beware the goblin men and the wares they sell.
All her life, nineteen-year-old Liesl has heard tales of the beautiful, mysterious Goblin King. He is the Lord of Mischief, the Ruler Underground, and the muse around which her music is composed. Yet, as Liesl helps shoulder the burden of running her family's inn, her dreams of composition and childish fancies about the Goblin King must be set aside in favor of more practical concerns.
But when her sister Käthe is taken by the goblins, Liesl journeys to their realm to rescue her sister and return her to the world above. The Goblin King agrees to let Käthe go—for a price. The life of a maiden must be given to the land, in accordance with the old laws.
A life for a life
, he says. Without sacrifice, nothing good can grow. Without death, there can be no rebirth. In exchange for her sister's freedom, Liesl offers her hand in marriage to the Goblin King. He accepts.
Down in the Underground, Liesl discovers that the Goblin King still inspires her—musically, physically, emotionally. Yet even as her talent blossoms, Liesl's life is slowly fading away, the price she paid for becoming the Goblin King's bride. As the two of them grow closer, they must learn just what it is they are each willing to sacrifice: her life, her music, or the end of the world.
Review:
"Life," he said softly, "is more than flesh. Your body is a candle, your soul the flame. The longer I burn the candle..." He did not finish. "A candle unused is nothing but wax and wick," I said."I would rather light the flame, knowing it will go out than sit forever in darkness."
Wintersong
is a beautifully written and captivating novel that while supposedly a retelling of
Labyrinth
also had it's fair share of
Beauty and the Beast
moments. I would like to say that I had not seen
Labyrinth
prior to reading this book (I only saw it after), and I'm glad I did it like this. Because I fear that I would have been extremely disappointed while reading this story. So in a lot of ways, I'm glad that I went into this story with no preconceived notions of what the book was going to be like. The novel had it's ups and downs but overall, it's a solid book that is unlike many current YA novels out there, and truly breaks down some barriers that all authors should take note of.
"The kiss is sweeter than sin and fiercer than temptation. I am not gentle, I am not kind; I am rough and wild and savage."
Let's start with the things I liked about the story before moving onto the parts I disliked. This cover is gorgeous and one of the first things that drew me to the story (along with the synopsis). And after reading the story, I feel like the cover fits the plot incredibly well. It's haunting and gorgeous, just like the writing. The plot was interesting for sure, and very well done in my opinion. It's certainly not your typical YA novel (as I have hinted previously)...in fact it's a grown up story that can be read by all ages. This is not your stereotypical love story where girl falls madly in love with the sexy goblin king and you, the reader, as well as our main character swoon over everything that said goblin king does. There's not even your typical happily ever after. And I think that's what I enjoyed most about this book. It was not you normal read. Moreover, it pushed boundaries and went outside of the norm. And in a world where a lot of books are telling the same story just with different characters and a different world, this was extremely refreshing.
"What's the use of running, if we are on the wrong road."
I truly liked Lisel as our main character. She is very plain and really nothing special (I'm not trying to be mean when I say this...but I'll further elaborate on it later on in my review). Lisel is overshadowed by both her brother and sister in every way. And she actually stays that plain, homely girl throughout the story. There's no goose-into-a-swan makeover. Lisel stays herself the entire time, and that is definitely not a bad thing. Because she is an incredibly headstrong, brave, and intelligent young woman who is gifted with composing music. But obviously in the time period that this book was set in, young women do nothing more than tend to the home. They don't compose music. So her gift is kept secret, but eventually she finds a way to get her gift out to the world. The Goblin King was another character that I loved purely because he was so mysterious during the entire story. While he wasn't as swoonworthy as I was expecting, he was an intriguing character that kept me guessing. I kept finding myself wanting to know
more
about him...his life before he became the Goblin King, how he was before Lisel came into his life, etc.
"There is music in your soul. A wild and untamed sortof music that speaks to me. It defies all the rules and laws you humans set upon it. It grows from inside you, and I have a wish to set that music free."
Finally, the non-traditional ending was an unexpected surprise that I greatly enjoyed. While deep down, I wanted a HAE for both our main characters, the minute you start reading the story you know that this won't happen (at least in the usual HAE way). There is enough closure to keep you satisfied but there is a glimmer of hope of what is to come. The story ultimately reminds us of the power of choice. That at the end of it all we have the freedom to make our own choices, but we must live with the consequences. It also reminds us that every choice we make has value. And by the end, Lisel is valued for her talent.
Now let's move onto the things I didn't like so much. First, the pacing...it was
incredibly
slow. When the book first starts, the pacing is perfect. A certain momentum is built and the story moves along quite quickly. However, it suddenly comes to a halt about halfway through (maybe a bit before). And then the story drags for a very long time. There was no real action or excitement for a huge chunk of this book, and when going in I was expecting more action and actual progression of the story, well it left me feeling a bit surprised to say the least. Don't get me wrong, the writing is beautiful and almost poetic in nature. I would gladly read another S. Jae Jones novel because she has such a talent with words. But I just needed the story to move a little faster. In the end, if this book would have been edited a little more, I think I could have easily given this 5 stars.
Another thing that I wasn't the biggest fan of while reading was the actual romance between our main characters, Lisel and the Goblin King. I don't know whether or not it was the constant emphasis on how plain and homely Lisel was (side note...just as it's a nuisance when authors go on and on about how gorgeous and beautiful a character is, it's just as annoying when the author continuously mentions how plain and unattractive a character is), or if it was the lack of connection between the two characters. But it just bothered me a bit. Now, that's not to say there isn't any romantic feelings between them (mostly after they are married), but even in those moments I couldn't bring myself to actually buy the idea that they liked each other.
Overall, I did enjoy the story a great deal, but it wasn't what I was expecting. I applaud the author for pushing the boundaries of storytelling and going outside of the norms when it comes to YA novels. The writing is absolutely beautiful and I am definitely going to check out future books from S. Jae-Jones. With a little editing, this book could easily be a 5 star read. I love the entire concept of the story and it has important lessons that we should all take to heart. I would recommend checking this one out if you have the time!