Waiting on Wednesday is a weekly event that is hosted by Ji
ll at

Breaking the Spine

a

nd spotlights upcoming releases that we're eagerly anticipating.
Jocelyn's Waiting On:

Labyrinth Lost by Zoraida Cordova
Publication Date: September 6th, 2016


Synopsis:
Alex is a bruja, the most powerful witch in a generation…and she hates magic. At her Deathday celebration, Alex performs a spell to rid herself of her power. But it backfires. Her whole family vanishes into thin air, leaving her alone with Nova, a brujo boy she can't trust. A boy whose intentions are as dark as the strange markings on his skin.
The only way to get her family back is to travel with Nova to Los Lagos, a land in-between, as dark as Limbo and as strange as Wonderland…
Beautiful Creatures
meets
Daughter of Smoke and Bone
with an infusion of Latin American tradition in this highly original fantasy adventure.
The first and last time that I heard of a bruja was on True Blood - and I LOVED Jesus and his storyline. So I must say that I'm pretty excited to read a book surrounding it.
Stalking Jack the Ripper (Untitled Trilogy #3) by Kerri Maniscalco
Publication Date: September 20, 2016
Synopsis: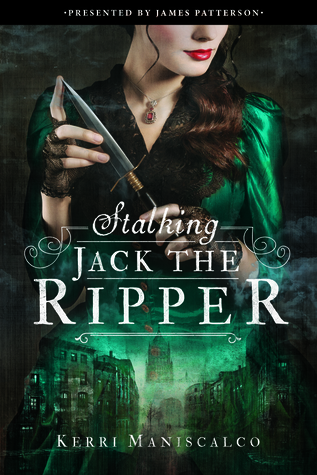 Presented by James Patterson's new children's imprint, this deliciously creepy horror novel has a storyline inspired by the Ripper murders and an unexpected, blood-chilling conclusion...
Seventeen-year-old Audrey Rose Wadsworth was born a lord's daughter, with a life of wealth and privilege stretched out before her. But between the social teas and silk dress fittings, she leads a forbidden secret life.
Against her stern father's wishes and society's expectations, Audrey often slips away to her uncle's laboratory to study the gruesome practice of forensic medicine. When her work on a string of savagely killed corpses drags Audrey into the investigation of a serial murderer, her search for answers brings her close to her own sheltered world.
The story's shocking twists and turns, augmented with real, sinister period photos, will make this dazzling debut from author Kerri Maniscalco impossible to forget.
This sounds like such an interesting read. Just from the synopsis, the cover fits seems to embody this book perfectly. I'm really intrigued to see where the author takes the story, and I'm hoping that Audrey is a strong MC! Fingers crossed that this is a win and I have a new series to take me into 2017 :)