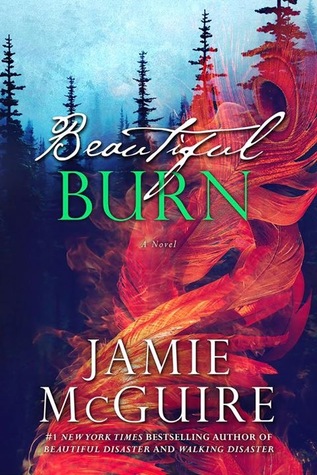 About the Book:
Title: Beautiful Burn (The Maddox Brothers #4)
Author: Jamie McGuire
Pub. Date: Jan. 31, 2016
Publisher: CreateSpace
Pages: 251
Genre: Romance, New Adult, Contemporary
Rating: 4/5 stars
Fresh out of college, Ellison Edson has fallen through the cracks of rock bottom. While staying in her family's vacation home in Colorado, her behavior has finally gained the attention of her parents—but not in the way she hoped. Cut off from the millions she's always taken for granted, and left alone to fend for herself, Ellie spirals further out of control, making a mistake she can't take back.
Like his twin brother Taylor, Tyler Maddox is a member of the Alpine Hotshots, fighting wildland fires on the frontline. As arrogant as he is charming, Tyler's nomadic lifestyle makes it easy to contain his relationships to one night. When he meets Ellie at a local party during off-season, her extreme personality and dismissive attitude fascinates him at first, but as his feelings deepen, Tyler realizes that the crippling inner demons of the woman he loves might be the strongest enemy any Maddox has ever faced.
I'm so sad that
Beautiful Burn
is the fourth and final novel featuring the Maddox Brothers, but all good things must come to an end.
Beautiful Burn
was an excellent way to end the series and say goodbye. Jamie McGuire will always be one of my all time favorite authors, and while I might not have loved every Maddox Brother story, she still gave me a set of brothers that have a special place in my heart. This can be read as a standalone, but come on...you need to experience all of the Maddox Brothers, starting with Travis in
Beautiful Disaster
. It adds to the experience of these novels, and makes you love these books that much more.
This is Tyler's book, and let me tell you...I absolutely loved Tyler. Tyler is an Alpine Hotshot, who risks his life by fighting forest fires. He falls in love with Ellison, our main character. Ellison is the main reason I couldn't give this book 5 stars. I honestly strongly disliked her character for the majority of the book, except for certain moments. She was such a spoiled brat that I never actually got what Tyler saw in her, and because these boys are so important to me, every single one of them has to have a girl that is amazingly special. And for a good chunk of this book, I didn't think Ellison was that girl. There were parts where she showed potential, and these were the parts that I liked her. But then she would go back to her old ways, and I couldn't stand her. However, by the end, she won me over, and I did like them together. Tyler and Ellison had an interesting dynamic, one that is definitely unique and unlike any of the other brothers' relationships.
The one thing that I applaud Jamie McGuire for though is making Ellison a likable character by the end of the story. I think if any other author would have written this book, my feelings toward Ellison would have been much different. Heck, my rating would have been much different. But, because of the situations and issues that Ellison had to endure truly made her grow up, which is something she desperately needed.
The one thing I will say is that certain twists or "heart-pounding" moments weren't as twist-y or as heart-pounding because I already knew how things would turn out. This has always been something that I disliked about the timeline in this series, since every book basically overlaps. It made for a unique reading experience, and for the most part I always enjoyed it. But, it does take some of the surprise out of the story. Nevertheless, Jamie McGuire concluded this series well, and I highly recommend reading this if you are a fan of the Maddox Brothers. You'll love Tyler, and while you might not completely love Ellison immediately, she does turn things around in the end.