About The Book:
Title:
Forever With You (Wait for You, #5)
Author: Jennifer L. Armentrout
Pub. Date: September 29th, 2015
Publisher: Avon Books
Pages: 385
Genre: Contemporary, Romance
Synopsis :
Some things you just believe in, even if you've never experienced them. For Stephanie, that list includes love. It's out there. Somewhere. Eventually. Meanwhile she's got her job at the mixed martial arts training center and hot flings with gorgeous, temporary guys like Nick. Then a secret brings them closer, opening Steph's eyes to a future she never knew she wanted—until tragedy rips it away.

Nick's self-assured surface shields a past no one needs to know about. His mind-blowing connection with Steph changes all that. As fast as he's knocking down the walls that have kept him commitment-free, she's building them up again, determined to keep the hurt—and Nick—out. But he can't walk away. Not when she's the only one who's ever made him wish for forever . . .
Review:
"Tell me that you still want to be here.
Tell me that you still see a future for us.
Tell me that you love me."
Jen Armentrout is a master of writing. There hasn't been a book of hers that I haven't adored, and wanted to read over and over again. But with the Wait for You series, Jen truly has showed her supreme talents as an author. She never fails to make me fall so deeply in love with her characters, and feel every single emotion they feel. Jen knows how to balance the sexiness, humor, and charm of NA book, and it makes for the perfect read that makes you never want to stop reading. However, as I was reading, I found that
Forever with You
was different than the other books in the series, as this is by far the most emotional and touching story's Jen has told. I was literally moved to tears while reading this book because there were such beautiful and heart-wrenching scenes.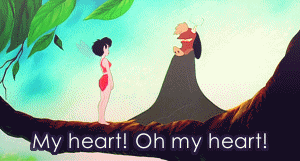 Nick has always been a character of interest to me. He was always very mysterious and quite honestly, kind of a jerk. I knew there had to be more to him because come on...this is Jen Armentrout we're talking about, and she writes the best male characters ever. I was bound to fall in love with Nick, and I did. We a very different side to him, and I loved his humor and caring nature that we never got to see before. Stephanie has also been mentioned before, but unfortunately we never got much about her besides the fact that she, like Nick, prefer the one-time hookup and are not into relationships. Well I absolutely adored Steph. She was hilarious and I loved her brash, no-holds-barred behavior. She had me cracking up so many times! But when things take an interesting turn for both Steph and Nick, something beautiful happens. I can't go into much detail because it's best to go into this book blind. Not knowing how the story will unfold, makes is so much better. It allows you to truly feel every single emotion and really get to know the characters.
"We'll figure this out. We will. You and I. Together. We can do this."
There is one scene in particular that is absolutely heartbreaking. I was borderline sobbing because I just couldn't help it. The scene was emotionally-charged and written with a grace few authors could manage. Besides this one scene, Jen does what she does best...tell a wonderful story that is filled with love, sexy-times, and hilarity. The last chapter in this book was a special gift to all long time readers of the series, and I loved every single word of it. I loved seeing my 2 favorite characters go through a very special moment.
Don't miss out on reading this touching, stunning book in the Wait for You series. This book will stay with you forever, and you'll never want to let it go!
Happy reading :)