Waiting on Wednesday is a weekly event that is hosted by Ji
ll at

Breaking the Spine

a

nd spotlights upcoming releases that we're eagerly anticipating.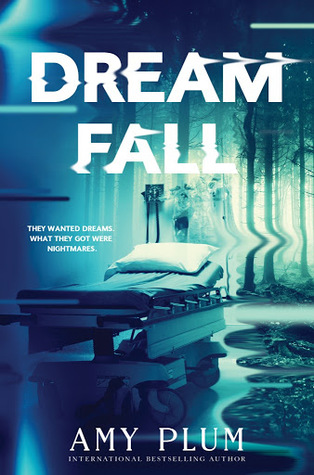 Cassie's Waiting On:
Dreamfall (Dreamfall #1) by Amy Plum
Publication Date: May 2, 2017
Synopsis:
Cata Cordova suffers from such debilitating insomnia that she agreed to take part in an experimental new procedure. She thought things couldn't get any worse...but she was terribly wrong.

Soon after the experiment begins, there's a malfunction with the lab equipment, and Cata and six other teen patients are plunged into a shared dreamworld with no memory of how they got there. Even worse, they come to the chilling realization that they are trapped in a place where their worst nightmares have come to life. Hunted by creatures from their darkest imaginations and tormented by secrets they'd rather keep buried, Cata and the others will be forced to band together to face their biggest fears. And if they can't find a way to defeat their dreams, they will never wake up.
I'm a huge fan of Amy Plum, so it was pretty much a given that I want to check out her brand new series! This seems like such an interesting and unique concept for a story, so I'm excited to see where this story goes. And the cover is just gorgeous! How can I say no?
Jocelyn's Waiting On:

Bad Romance by Heather Demetrios
Publication Date: June 13th, 2017


Synopsis:
Grace wants out. Out of her house, where her stepfather wields fear like a weapon and her mother makes her scrub imaginary dirt off the floors. Out of her California town, too small to contain her big city dreams. Out of her life, and into the role of Parisian artist, New York director—anything but scared and alone.
Enter Gavin: charming, talented, adored. Controlling. Dangerous. When Grace and Gavin fall in love, Grace is sure it's too good to be true. She has no idea their relationship will become a prison she's unable to escape.
Deeply affecting and unflinchingly honest, this is a story about spiraling into darkness—and emerging into the light again.
I've never read a novel by Ms. Demetrios before, however I have heard fantastic things about I'll Meet You There from some trusted book bloggers! It seems as if she does a great job writing about hard-to-hear topics and that's one thing I truly respect in an author. I can't wait to read it!