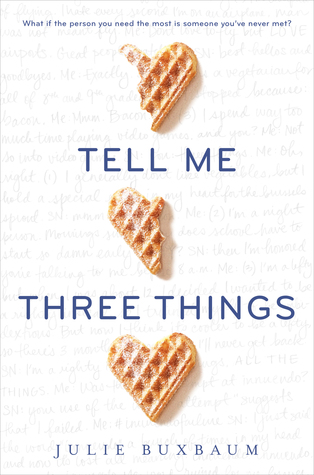 About the Book:
Title: Tell Me Three Things
Author: Julie Buxbaum
Pub. Date: April 5, 2016
Publisher: Delacorte Press
Pages: 336
Rating: 4.5/5 stars
Everything about Jessie is wrong. At least, that's what it feels like during her first week of junior year at her new ultra-intimidating prep school in Los Angeles. Just when she's thinking about hightailing it back to Chicago, she gets an email from a person calling themselves Somebody/Nobody (SN for short), offering to help her navigate the wilds of Wood Valley High School. Is it an elaborate hoax? Or can she rely on SN for some much-needed help?
It's been barely two years since her mother's death, and because her father eloped with a woman he met online, Jessie has been forced to move across the country to live with her stepmonster and her pretentious teenage son.
In a leap of faith—or an act of complete desperation—Jessie begins to rely on SN, and SN quickly becomes her lifeline and closest ally. Jessie can't help wanting to meet SN in person. But are some mysteries better left unsolved?
Julie Buxbaum mixes comedy and tragedy, love and loss, pain and elation, in her debut YA novel filled with characters who will come to feel like friends.
I'm going to write this review a bit differently than I normally do, by telling you three things:
1. I am definitely reading more from Julie Buxbaum in the future.
I was pleasantly surprised by how much I truly enjoyed this novel. There was so much to love about it, and while the underlying story wasn't revolutionary, I loved the unique way Julie Buxbaum navigated the topic of high school and feeling out of place. There was just something special about her writing style, as well as the characters she created. You will easily fall in love with the story and the characters, especially Jessie (our MC). I never got tired of reading this book, in fact, I actually didn't want to stop reading it! Julie Buxbaum managed to tell a story that was filled with sadness and depth, mixed with humor and fun. Yes, I figured out who S.N. was pretty early on (as I suspect most other readers will too), but this certainly didn't detract from the story in any way. In fact, it keeps you reading because you want to see how Jessie and S.N.'s story unfolds.
2. This book is incredibly real and raw, and that's the reason I loved it so much.
"Just because you're strong doesn't mean you shouldn't ask for help sometimes. Remember that."
Tell Me Three Things
leaves you with a whole bunch of emotions all at once. The story instantly transports you back to when you were 16 and in high school (if you're an older reader like myself that is). And honestly, Julie Buxbaum just gets it. She captures exactly how it feels to be on the outside looking in, when you have multiple fears of not only the future but just how you're going to survive in this world where it seems like no one wants to be your friend. She captures just what it means when you hesitate being yourself because your insecure about who you are and you're not quite sure of anything or anyone.
"He's more like me, I think: burdened with the realization that what goes on his mind is somehow different from what goes on everyone else's. Even those close to us. And how you can't think about that for too long, because that thought- the truth of your own isolation- is too much to bear."
Countless readers will be able to relate to Jessie because she is you and me and pretty much everyone trying to navigate the crazy world that is high school. Ultimately, Julie Buxbaum created very human characters that show what it means to be a teenager today. It also makes you wonder what if you had someone like S.N. to help you out during your experience. Would things have been different? I wish I had this book when I was 16 because this book would have probably been my lifeline in many ways. But the one excellent thing about this novel is that it reminds all of us to sometimes just let it all go, and let things happen the way they are supposed to. Trust the journey because you never know who might reach out and come into your life.
3. You need to read this book now!
I high recommend adding this book to your TBR right away, and the reading it as soon as possible. There is so much to love about this book and I think everyone will have a different experience while reading. Some might not like it, but if you're like me, you'll find something to take away from Jessie's character. It was a quick-read that will appeal to many contemporary fans. This is a story of love, friendship, and finding yourself. But it is also a story of acceptance.
Happy reading :)