Waiting on Wednesday is a weekly event that is hosted by Ji
ll at

Breaking the Spine

a

nd spotlights upcoming releases that we're eagerly anticipating.
Jocelyn's Waiting On:

The Last Good Day of the Year: Jessica Warman
Publication Date: May 19th, 2016


Synopsis:
Ten years ago, in the early hours of New Year's Day, seven-year-old Samantha and her next door neighbor, Remy, watched as a man broke into Sam's home and took her younger sister, Turtle, from her sleeping bag. Remy and Sam, too afraid to intervene at the time, later identified the man as Sam's sister Gretchen's much older ex-boyfriend, Steven, who was sent to prison for Turtle's murder.
Now, Sam's shattered family is returning to her childhood home in an effort to heal. As long-buried memories begin to surface, Sam wonders if she and Remy accurately registered everything they saw. The more they re-examine the events of that fateful night, the more questions they discover about what really happened to Turtle.
This book seems chilling. I'm not usually a huge fan of the thriller genre, but this book might just get me interested in it. There's a first for everything, and I'm hoping The Last Good Day of the Year is the first thriller novel that I absolutely love.
Burning Glass (Burning Glass #1) by Kathryn Purdie
Publication Date: March 1, 2016
Synopsis: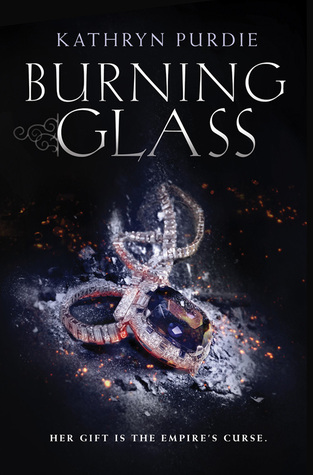 Sonya was born with the rare gift to feel what those around her feel—both physically and emotionally—a gift she's kept hidden from the empire for seventeen long years. After a reckless mistake wipes out all the other girls with similar abilities, Sonya is hauled off to the palace and forced to serve the emperor as his sovereign Auraseer.
Tasked with sensing the intentions of would-be assassins, Sonya is under constant pressure to protect the emperor. One mistake, one small failure, will cost her own life and the lives of the few people left in the world who still trust her.
But Sonya's power is untamed and reckless, her feelings easily usurped, and she sometimes can't decipher when other people's impulses end and her own begin. In a palace full of warring emotions and looming darkness, Sonya fears that the biggest danger to the empire may be herself.
As she struggles to wrangle her abilities, Sonya seeks refuge in her tenuous alliances with the volatile Emperor Valko and his idealistic younger brother, Anton, the crown prince. But when threats of revolution pit the two brothers against each other, Sonya must choose which brother to trust—and which to betray.
First, that cover is so pretty and that alone makes me want this book on my shelf. But this novel from debut author Kathryn Purdie sounds like a unique novel that will be full of danger and romance. Just from the description I can tell there will be plenty of twists and turns. So let's hope this novel is a win!