Waiting on Wednesday is a weekly event that is hosted by Ji
ll at

Breaking the Spine

a

nd spotlights upcoming releases that we're eagerly anticipating.
Jocelyn's Waiting On:

Ruined: Amy Tintera
Publication Date: May 3rd, 2016


Synopsis:
Emelina Flores has nothing. Her home in Ruina has been ravaged by war. She lacks the powers of her fellow Ruined. Worst of all, she witnessed her parents' brutal murders and watched helplessly as her sister, Olivia, was kidnapped.
But because Em has nothing, she has nothing to lose. Driven by a blind desire for revenge, Em sets off on a dangerous journey to the enemy kingdom of Lera. Somewhere within Lera's borders, Em hopes to find Olivia. But in order to find her, Em must infiltrate the royal family.
In a brilliant, elaborate plan of deception and murder, Em marries Prince Casimir, next in line to take Lera's throne. If anyone in Lera discovers Em is not Casimir's true betrothed, Em will be executed on the spot. But it's the only way to salvage Em's kingdom and what is left of her family.
Em is determined to succeed, but the closer she gets to the prince, the more she questions her mission. Em's rage-filled heart begins to soften. But with her life—and her family—on the line, love could be Em's deadliest mistake.
A girl marrying a prince under the illusion that she is his arranged marriage? Tell me that does not excite you! There seems like there can be so many things that can go wrong for Em and Casimir in this novel, so I obviously need to see what happens to them.
These Vicious Masks (These Vicious Masks #1) by Tarun Shanker & Kelly Zekas
Publication Date: February 9, 2016
Synopsis: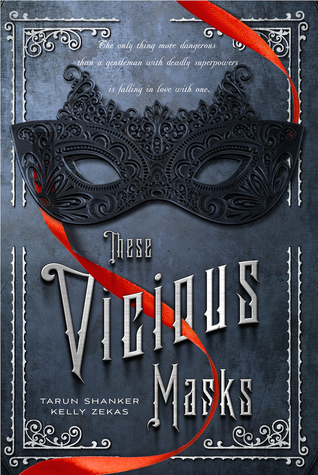 England, 1882. Evelyn is bored with society and its expectations. So when her beloved sister, Rose, mysteriously vanishes, she ignores her parents and travels to London to find her, accompanied by the dashing Mr. Kent. But they're not the only ones looking for Rose. The reclusive, young gentleman Sebastian Braddock is also searching for her, claiming that both sisters have special healing powers. Evelyn is convinced that Sebastian must be mad, until she discovers that his strange tales of extraordinary people are true—and that her sister is in graver danger than she feared.
If you even mention Victorian London in a book, I'm pretty much sold. This book is being marketed as Jane Austen meets X-Men which sounds like a very unique concept for a novel, and I am interested to see how it is executed in this novel. This novel has a lot of potential to be the start to a great series, so fingers crossed! Plus, that cover is gorgeous!